The dominant player in the $20 billion swim school industry is backed by private equity firm L5 Capital Partners, putting investors in an optimum position to see high performance and ROI.
Since its founding in 2009 by competitive swimmer and near-Olympics-qualifier Chris DeJong—who finished behind Michael Phelps and missed qualifying for the 2008 Olympics by just three-tenths of a second—leading swim school franchise Big Blue Swim School has come off the block with a laser focus. Today, Big Blue Swim School has emerged as the dominant player in the $20 billion swim school industry thanks to a superior curriculum premised on distance-based methodology, innovative lesson planning technology, data-based real estate sourcing and an Amazon-proof model, just to name a few differentiators.
Given these competitive qualities, Big Blue Swim School has already enjoyed explosive franchise growth—recently selling out its home market of Chicagoland with a 10-unit deal and expanding to key development markets across the U.S.—all in pursuit of its goal to hit 150 units by 2021. Finally, Big Blue is backed by the franchising experts of L5 Capital Partners, a private equity firm that grew to become the third-largest national yoga studio operator, with 27 locations in four states, all in less than a decade.
Suffice to say: the time has never been better to buy into the Big Blue Swim School franchise system.
So just what defines a qualified franchise candidate in terms of Big Blue ownership? Because of the strong financials needed to open a Big Blue Swim School, semi-absentee inventors with sizeable equity capital who are looking to add a recession-resistant business to their portfolios align impressively with Big Blue.
"Our model is highly efficient and semi-absentee-investor in structure, so investors can maximize their time and capital with us," said Big Blue Swim School's Chief Development Officer, Scott Thompson. "We look for someone with the business acumen to leverage the data provided and to help scale the business."
Thompson also emphasized that Big Blue Swim School embodies the type of high-performing returns and longevity that semi-absentee investors look for in a business opportunity.
"A lot of people looking for great returns on investment want to park their capital for a long period and time and see high returns over time," said Thompson. And, because parents will always invest in their kids, "that's Big Blue Swim School."
Because many investors may not personally have experience in the swim school industry, Thompson and the other members of Big Blue's leadership team take care to provide unparalleled support and training.
"We are data-driven and we are nimble," said Thompson. "We have the experience to scale quickly and we optimize a data-driven real estate assessment that identifies prime real estate in trade areas. Next, we deploy operational team members for both pre- and post-opening support as part of our proven marketing strategy."
Consistent with Big Blue's utilization of technology for real estate and marketing purposes, the industry leader also optimizes for lesson capacity thanks to proprietary lesson management software and customer self-service mobile app, LessonBuddy™.
"LessonBuddy allows our franchise partners to really manage their business through dashboards and KPIs all the way down to the shift level—they can track their costs and efficiencies so that they have total transparency in terms of ROI and health of the business," explained Thompson. "LessonBuddy also allows families to reschedule lessons at the touch of a button, solving availability problems and maximizing reach."
Because of Big Blue's proven systems, the swim school brand lends itself to quick scaling and serves as a lucrative opportunity for those investors looking to maximize their earnings through multi-unit ownership.
Several recent franchise partners who joined the Big Blue system as area developers include former Orangetheory franchisees Wendy and Erik Skaalerud, who will bring five locations to the Denver area; Sun Stop Sunglasses franchisees Zack and Brittany Groesbeck who will bring three Big Blue Swim Schools to Salt Lake City; and Orangetheory and Amazing Lash Studio brother-and-sister franchisees Adryenne and Derek Hearne, who will bring five new locations to Florida and South Carolina.
"We have incredible franchise partners and because of L5 Capital's experience as owner of Level 4 Yoga, LLC, the largest franchisee of CorePower Yoga, we know what it means to be a franchisee and the importance of a good franchisor relationship," said Thompson. "We know what services and systems we would expect and how to optimize a capable semi-absentee business model."
With the differentiators, infrastructure, and expertise to position semi-absentee franchise partners for success, Big Blue Swim School is the high-performing investment opportunity ready to be added to portfolios across the U.S.
ABOUT BIG BLUE SWIM SCHOOL
Big Blue Swim School was founded in 2009 by competitive swimmer Chris DeJong. The first location opened in Wilmette, Illinois, followed by Niles, Buffalo Grove and Hoffman Estates. In 2017, Level 5 Capital Partners acquired a majority stake in the brand, and is rolling out an aggressive strategy to grow through franchising to 150 locations by 2020. Big Blue Swim School's real estate footprint, proprietary technology Lesson Buddy, coupled with its practice of employing full-time child engagement specialists that teach based on a proprietary distance-based swimming methodology sets Big Blue up for long-term success. To learn more about franchise opportunities with Big Blue Swim School, visit http://YourBigMomentStartsHere.com.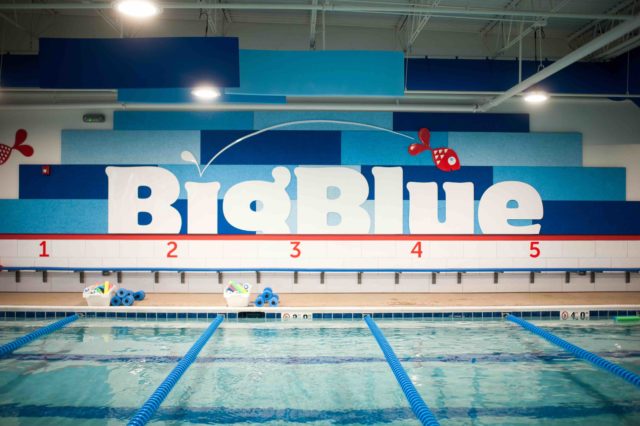 Big Blue Swim School is a SwimSwam Partner.