Today's FINIS Set of the Week comes from James Harasym. James was a competitive swimmer for 12 years for Three Village Swim Club under Barry Roffer in East Setauket, New York.  He then went on to coach for the Sachem Swim Club, and will be graduating from Stony Brook University in June with a Bachelors Degree in Business Management and Economics with a Minor in Sports Marketing. 

I wrote this set for a group primarily composed of kids ages nine to thirteen.  It is a great combination of dryland work along with fast swimming.  The practice takes about 90 minutes.

Warm-Up:
1000 200 Swim, 200 Kick with Alignment Board and Snorkel, 200 IM, 200 Pull with Agility paddles, 200 Backstroke
Main Set:
50 x 50 Freestyle
[Three groups of swimmers organized based on speed]
10 x 50 on 1:00, 1:05, 1:10
10 x 50 on   :55, 1:00, 1:05
10 x 50 on   :50, :55, 1:00
10 x 50 on   :45, :50, :55
10 x 50 on   :40, :45, :50
Between each round of 10 x 50:
:30 second plank hold, :30 seconds of sit-ups, :30 seconds of push-ups
:30 SECOND REST THEN REPEAT STARTING WITH SWIM
For more awesome workouts, visit FINIS' Training Tips & Workouts page today!
About FINIS, Inc.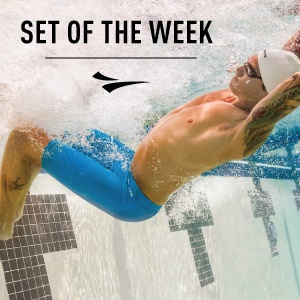 John Mix and Olympic Gold Medal swimmer Pablo Morales founded FINIS in Northern California in 1993 with a mission to simplify swimming for athletes, coaches, beginners and lifelong swimmers around the world. Today, FINIS fulfills that mission through innovation, high quality products and a commitment to education. FINIS products are currently available in over 80 countries. With a focus on innovation and the fine details of swimming, FINIS will continue to develop products that help more people enjoy the water.