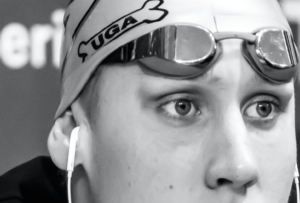 Chase is a good guy. A better title to this piece might be Badgering Chase Kalisz.  We caught him at the very end of a long night, and he did not expect to be interviewed.  The Olympic medalist and World Champion swam fast at  the Austin Pro Swim:
400 IM – 4:10.80
200 IM – 1:57.50
200 Breast – 2:11.21
200 Butterfly – 1:55.63
As he said on camera, he's feeling big man speed now.  Chase is loving the pro life, and he expects to close a swimwear partnership soon, making the pro life official.
***Expect a Day In The Life with Chase video feature soon courtesy of Coleman "The Hammer" Hodges.
In the meantime, with Chase dropping such fast swims so early in the season, what do you think he'll go at U.S. Pan Pac and World Championship Trials this summer? I think Chase is 4:05.8 400IM, 1:55.1 200IM, 1:53.9 200 fly.   Bottom-line,  he's faster than his '17 summer times.  What do you think?
Follow Chase Kalisz  on Twitter here.
Follow Chase Kalisz on Instagram here. 
See Chase Kalisz on Facebook here. 
RECENT EPISODES
This is a Gold Medal Media production presented by SwimOutlet.com. Host Gold Medal Mel Stewart is a 3-time Olympic medalist and the co-founder of SwimSwam.com, a Swimming News website.