The Carmel Swim Club in Carmel, Indiana, is a USA Club Swimming Gold Medal Club of Excellence whose mission is "Teaching excellence through swimming for life." Carmel has consistently shown that it fulfills its mission by achieving success from the local state and level, to Junior National championships, to all the way to the top of the world stage.
Carmel alum have made their marks at the highest levels of swimming. Over the last few years, Drew Kibler has made headlines as one of the top college swimmers in the country, including being part of a U.S. Open Record-setting 4×200 free relay at the 2019 NCAA Championships, and helping Texas to a NCAA championship last month. Just a few of the other Carmel who've made an impact the college level include  Amy Bilquist (Cal), Claire Adams (Texas), Kelly Pash (Texas), Wyatt Davis (Michigan), and Jake Mitchell (Michigan).
The man who leads the staff responsible for Carmel's success is head coach Chris Plumb, who has been with Carmel since 2003. Like the club, he's steadily climbed the coaching ranks, culminating his appointment as head coach for the USA Junior Pan Pacific team in 2016, as well as being named as part of several other staffs for international meets. We chatted with Coach Plumb to get his take on what makes Carmel so special, as well as some insights into coaching in general.
Plumb describes his coaching philosophy simply as "to teach life skills through the sport of swimming."
One of the ways that happens is that Plumb and the rest of the coaching staff as Carmel intentionally take steps to see athletes become leaders.
We give them many challenges both inside and outside the pool to use their leadership skills.  We try to put them in places where the need to use leadership – whether it be lead a team meeting, lead warm-up, etc.
Any team that's had the level of success that Carmel has is going to have strong team chemistry, and Plumb attributes Carmel's chemistry to "the trust created outside the pool."
Coaching can take its toll, especially when running a team as large and as accomplished as Carmel.
My biggest struggle is trying to keep a healthy life balance.  Coaching and leading an organization like the Carmel Swim Club comes with many challenges and having time to find balance is important to me.
Still, Plumb acknowledges that the grind is worth it, and when asked about his favorite coaching memory, he had difficulty narrowing it down to just one.
There are just so many but the first time I was able to represent Team USA at Junior Pan Pacs was a special moment in my career.
With excellence in everything from its learn to swim program to the highest levels of competition, Carmel Swim Club is clearly, like its vision statement says, "a community club with a national presence."
Carmel Swim Club is one of 3,000 swim clubs in the United States. How can we grow that number and promote the sport? 
ABOUT BSN SPORTS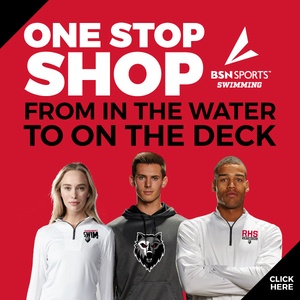 Founded in 1972 as a factory-direct equipment company, today BSN SPORTS is the largest distributor of team sports apparel and equipment in the United States, with over 3,000 employees across 80 regional offices. At BSN SPORTS we believe that sports have the power to change lives. At the heart of what makes sports happen are the coaches, teachers and mentors who work with young and old alike to build meaningful lifelong experiences. That's why our mission is simple. The more time we save coaches with everything they do off the deck, the more time they can spend changing lives. And that's the real final score.
Get your swimmers in custom team gear with your team's logo. My Team shop provides a one-stop-shop solution to custom apparel, suits, footwear, equipment and accessories. It's simple to setup and the My Team Shop platform can even serve as a fundraising solution to earn dollars for your program. To set one up today email us at [email protected]orts.comor call 1-877-217-9027.
To learn more about BSN sports visit us at www.bsnsports.com/ib/swimming.
BSN SPORTS SWIMMING ON Instagram – @bsn_swimming