Get your news fix on happenings outside the pool with the latest 'Beyond the Lane Lines.'  With each edition, we collect personal stories, little known facts and general items of interest from athletes around the world in their non-aquatic habitats, helping us get to know them for more than just an event ranking or time on a board. Read on and learn something new this week.
Commonwealth Games gold medalist Ariarne Titmus of Australia was named the Community News 2018 National Local Sports Star winner earlier this month. The St. Peters Western athlete, who recently finished her year 12 school commitments at St. Peters Lutheran College, took gold in both the 400m and 800m freestyle events on the Gold Coast, while later claiming silver medals in the same individual events at the 2018 Pan Pacific Championships.
"It is an honour to win this award following the year I have had in the pool,'' said Titmus of her acknowledgement.
#2 – Kosuke Hagino 'Suited Up'
24-year-old Olympic champion Kosuke Hagino of Japan was recently honored with a 'Suit of the Year' award in Tokyo. Given by the United Arrows company, the awards acknowledge individuals within their respective fields who 'have unique talent and aim to change the world.' Hagino in particular won the 'enlightenment' award for sports.
#3 – Swimming Pool Art Sold for $90.3m
Artist David Hockney's piece entitled 'Portrait of an Artist (Pool with Two Figures) earned a record-high amount of $90.3 million this month during an auction at Christie's New York. After nine minutes of bidding dominated by 2 rival telephone bidders, the British artist's piece, seen below, courtesy of CNN, beat its estimated pre-sale amount of $80 million.
Per ERC Journal, the 81-year-old British artist painted the work in 1972 after 'being inspired by the two photographs he found juxtaposed on his studio floor. It depicts a man in a pink jacket looking down at another figure swimming underwater in a swimming pool.'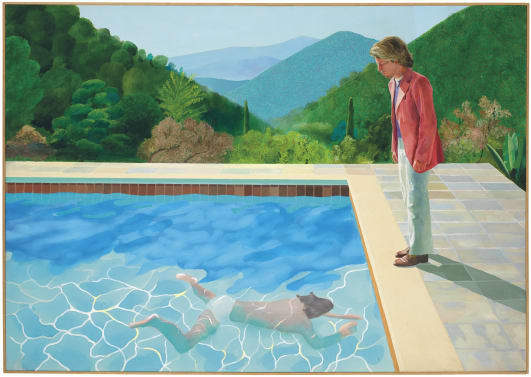 #4 – Andrii Govorov is a New Dad
World Record holder Andrii Govorov of Ukraine is a new dad! He and his wife Daria welcomed their son, Andrii Andreevich Govorov, into the world on Saturday, November 17th, with the baby weighing 4.1kg and measuring 51cm. Per Govorov's Instagram, the 50m fly specialist stated, "Yesterday I became a father! It's unbelievable feeling when new life is coming into our world!"
#5 – Joseph Schooling Investing Outside the Pool
Off the back of his 2 new Singaporean National Records, Joseph Schooling is working with East Ocean Ventures (EOV) to expand his portfolio outside the pool. Reportedly choosing healthcare and artificial intelligence sectors, Schooling is working directly with EOV founder Nicholas Tan on possible investments in the Chinese market.