The Arkansas women have added 2 more members to their recruiting class, as Alyssa Lemon and Shea Gregson have given their verbal commitments to join the Razorbacks next season. Both will add freestyle depth to the team, but Gregson will likely compete in the 100 fly as well.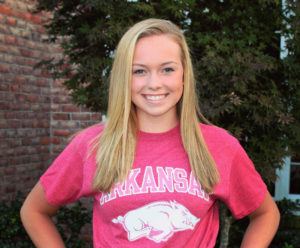 ALYSSA LEMON:
Lemon is a freestyler from Rockwood Swim Club in Ellisville, Missouri. During the high school season, she'll be competing as a senior for Marquette High School. Her best events range from the 50 free to 1650 free, so the coaches will be able to use her in the sprints and distance events next season.
Last season, Lemon was an NCSA Spring Championships qualifier, competing in the 50, 100, and 200 free. She went on to compete at the 2016 Futures Championships meet in Austin during the long course season, swimming in the 50 free, 100 free, 200 free, and 400 free.
On her commitment:
I chose Arkansas because of the amazing team and coaches! It is a place where I feel at home. I am so excited to be apart of such an incredible program. I know that great things are in my future as a Razorback! Woo Pig Sooie!
Lemon's Top Times:
| | |
| --- | --- |
| Event | Best time |
| 50 free | 24.29 |
| 100 free | 52.44 |
| 200 free | 1:51.94 |
| 500 free | 5:02.84 |
| 1650 free | 17:40.40 |
At Arkansas, Lemon will team up with Annah Carney, who swam the 500 free during her freshmen SEC meet, in her distance training. For the sprints, she'll be training alongside Caitlin Tootill, Olivia Weekley, and Kiera Michailoff-Russell.
Having Lemon on the roster will also help make up for the graduation loss of Rachel Stoehr, an SEC scorer for the Razorbacks in the 1650 free.
SHEA GREGSON:
Gregson will head to Arkansas after graduating from Tomball Memorial High School in Texas. Her club training base is with the Magnolia Aquatic Club. Gregson will add depth in the sprint and middle distance freestyles, but she also shows promise in the 100 fly.
Gregson was a 2-time championship finalist at the 2015 Texas 5A State Championships. There, she swam to a silver medal in the 100 fly, posting a personal best 56.90. She also competed in the 50 free, getting 5th overall in 24.08.
Gregson's Top Times:
| | |
| --- | --- |
| Event | Best time |
| 50 free | 23.90 |
| 100 free | 52.01 |
| 200 free | 1:52.66 |
| 100 fly | 56.90 |
| 100 back | 58.25 |
At Arkansas, Gregson's butterfly training group will also include Olivia Weekely, who also swims the sprint freestyles. After this season, the Razorbacks will graduate SEC scorer Natalie Burnett, so Gregson's addition to the roster could help make up for Burnett's absence.
AB