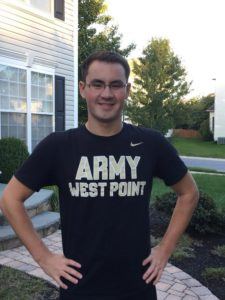 The Army men have picked up another verbal commitment, this time from Tyler Kim, a versatile recruit from Ellicott City, Maryland. During the high school season, Kim will be swimming as a senior for Mt. Hebron High School. His club team training base is with the Eagles Swim Team.
Kim trained through the yards portion of the 2015-16 season in order to focus on his long coure championship meets. At the 2016 Speedo Summer Sizzler, he posted long course best times in the 100 back (58.18) and 100 free (56.28). He then went on to the Futures Championships meet in Maryland, clocking bests in the 200 fly (2:07.24) and 200 IM (4:38.21).
Kim's times in the 100 and 200 backstrokes are good enough to qualify him for Winter Nationals and Summer Junior Nationals. He also has Winter Juniors cuts in the 200 fly and 400 IM.
Kim's Top Times:
| | |
| --- | --- |
| Event | Best time |
| 100 back | 51.43 |
| 200 back | 1:48.55 |
| 200 fly | 1:52.74 |
| 200 IM | 1:55.31 |
| 400 IM | 4:04.80 |
Since he skipped taper during the last short course season, most of Kim's bests are from 2014-15. He'll likely be able to drop them down if he translates his success from the long course pool this summer.
Even so, Kim's current best in the 200 back is already good enough to have made the championship final at the 2016 Patriot League Championships, and his 100 back would've easily made the top 16.
At West Point, Kim will join a backstroke group that includes Josh Sembrano, Michael Stanchi, and Matt McPheters, who were all championship finalist backstrokers at the 2016 Patriot League meet. Kim's versatility will also give the coaching staff the option of using him in the IM and butterfly races, training for those races with Jay Yang and Jason Rodriguez. Those 2 were finalists in the 200/400 IM and 100/200 fly, respectively.
AB