Courtesy of Alexa Fults
Droplets cascade down my face—dripping into the water, causing ripples to erupt on the glass-like surface. My body coiled, poised to spring from the block. As I tear through what once was calm and still, I leave in my wake an explosion of churning white water, entering the blue realm that has served as a constant for the entirety of my life. This deep oasis is often reduced by most to the four concrete walls with which it is encased, but to a uniquely amphibious subspecies of the human race, more commonly known as "competitive swimmers", the pool is where we are in our element. It is our home, my home.
I caress the water in my hands and then slam it down the length of my body, propelling myself forward. With each stroke, I become increasingly powerful. I feel the crisp, cool water rushing over my skin as I follow the black tiles on the pool's bottom. My heartbeat echoes. Bubbles of air escape my nose: an instinctual reminder that I am not the one in control. The water is alive, but does not comprehend matters such as age, gender, race, religion, or political background; it treats us all the same. The water has defined my being. The water is my best friend.
As my hand collides with the wall, and my head emerges from the deep blue, I am fully in awe. It is in this sacred place, that I have both searched for my self-worth and found it, cried tears of sadness and of joy, lost and won races, felt the presence of God, and learned to challenge myself. The fondest memories of my life still exist between the lane lines, beneath the water where I have sacrificed so much of myself. The water has broken me, and it has saved me. The pool has molded me into the person I am today. The pool is my home.
About Alexa Fults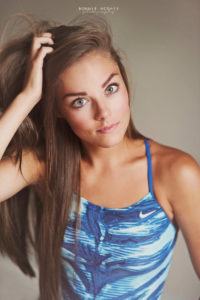 My name is Alexa Fults, I'm 18 years old and live in Tennessee. I do sprint freestyle and am a freshman on the University of the South's Women's Swim Team. I've also been swimming with my club team, the Manchester Makos, for slightly over 12 years. Through the many changes in life, swimming has always been my constant.