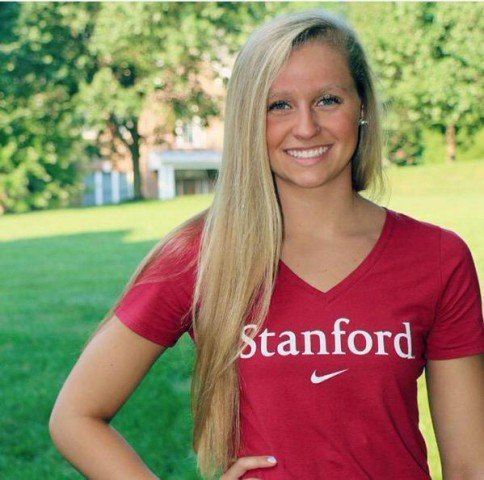 The 14th-ranked recruit in the high school class of 2016 Megan Byrnes has made her college choice, and will head to Palo Alto, California as a member of the Stanford Cardinal.
Stanford head coach Greg Meehan has been on a recruiting tear, including three of the top 20 recruits in the high school class of 2015.
Now, in Byrnes, he has another instant-impact contributor who will come in next fall, along with Katie Ledecky – the top recruit in the class of 2015 who deferred enrollment until after next summer's Olympic Games.
Byrnes, who trains under John Flanagan at powerhouse club NCAP, is primarily a freestyler. Her best times in yards:
50 free – 24.09
100 free – 52.05
200 free – 1:48.61
500 free – 4:43.43
1000 free – 9:40.94
1650 free – 16:01.83
200 back – 1:58.45
400 IM – 4:15.52
She's also an outstanding 400 IM'er, and already has Olympic Trials cuts in the 400 free, 800 free, the 200 back, and that 400 IM in long course.
Byrnes has been a powerhouse for Oakton High School in Virginia's 6A (big school) conference since her freshman year, but has continued to improve without any sign of a premature plateau. Her best times in all 8 events listed above were all done during her junior season.
The Stanford women placed 2nd at the 2015 NCAA Championships in the 800 free relay with one freshman and three sophomores (which will be one junior and three seniors when Byrnes arrives). Between those four, including the incredible Simone Manuel, and with the addition of Ledecky, Byrnes, incoming freshman Ella Eastin, and Leah Stevens, the Cardinal could legitimately put together an A and B 800 free relay in 2017 faster than anybody else in the country's top group.
That means Byrnes' primary target will be both relieving some of the Cardinal stars for the team's other relays, and scoring individually in events that were among Stanford's biggest weaknesses last year. Stanford didn't score any points in the 500 or 1650 frees at last year's NCAA Championships where they wound up in 3rd place as a team. Leah Stevens joins the team this year, and Ledecky and Byrnes join the team next year, and suddenly that will become the team's strongest events.
Byrnes is the defending NCSA Junior National Champion in the 800 meter free, as well as the Virginia High School League 6A defending champion in the 200 and 500 yard freestyles (both in state record times).