This article was originally posted in March of 2015.
Courtesy of Dan Ross, SwimSwam Intern, #SwimTern. Follow: @danSHAZAMross
Yeah, we all know you've been saying it, "Missy Franklin is my hero!" or something along those lines. Being a comic book fan myself, I've taken it upon myself to ask who these swimmers would be if they were superheroes!
ONE
Wonder Woman
This should be very easy to see, they share the same compassion, the same beauty, smarts, and more. This was quite possibly the easiest of comparisons.
TWO
Green Lantern
Guy Gardner, (the third and least well known) is known for being a tad bit boastful and silly, but he gets the job done, and you cant argue with his indomitable will. Ryan Lochte and he are essentially the same person, heck they even like the color green and have a weird fashion sense!
THREE
The Savage Hawkman
Is Hawkman more fearsome and powerful than a sprinter? The powers of his Egyptian Amulet that transforms him into an axe toting Hawkman equal formidable strength and ferocity. The way Vlad swings his arms in the pool reminds me of how Hawkman swings that axe. Lets just keep it away from me… I don't wanna get hurt!
FOUR
The Flash
The scarlet speedster and Nathan Adrian could not be more alike. The Flash is a happy-go-lucky dude that just happens to be able to run faster than the speed of sound. Nathan Adrian is a happy go lucky kind of dude who just happens to be one of the fastest sprinters in the world! Do I really need to continue?
FIVE
Martian Manhunter
The glue of the Justice League, Martian Manhunter is an integral part of the team, on and off the front lines. So is Cullen Jones. An activist and excellent swimmer, Cullen brings awareness to crucial issues plaguing our sport all while representing Team USA.
SIX
Superman
Kal-El, Clark Kent, the greatest superhero of all time… He is the biggest of all bigs, and who could be that other than Mark Spitz (7-for-7 Olympic gold medals in 1972), the man who was the inspiration for Michael Phelps and his record breaking 8-for-8 Olympic gold medals in 2008?Mark Spitz is one of the greatest inspirations of all time, and he did it all without those superhero swimsuits these kids have nowadays.
SEVEN
Supergirl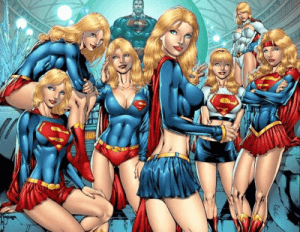 Super doesn't even begin to describe Katie Ledecky's abilities in the pool. Her endurance is straight up super-human. If there was a step up from this, she would be it. The cousin to Superman, Supergirl is every bit as powerful, and twice as cool. She may be younger, but she's a powerhouse and that is exactly what Katie Ledecky is. A powerhouse out to show the world how tough she is.
EIGHT
Aquaman
I mean, you all saw this coming right? The real life Aquaman and the fictional Aquaman. For all we know, Michael Phelps could be part Atlantean. His abilities in the pool are astounding. If I ever get to see something as impressive as him in my lifetime, I'll be surprised. The King of the Seas and the Baltimore Bullet are both Aquamen.
NINE
Cyborg
Robotic precision, endurance, and pacing skills. That is what Ian Thorpe has. His abilities as a distance swimmer are phenomenal. I could watch him swim for hours and simply gasp in the beauty and seeming ease with which he swims. His ability to do this is almost robotic in rhythm, and cadence. Cyborg is the half human half machine member of the Justice League, and I can see no other person more fitting to be his counterpart in real life.
TEN
Zatanna
Magical, that's what I have to say about Natalie Coughlin's swimming abilities. That's right up Zatanna's alley because she is a magician without compare. As the Justice League's Magic Expert there is little she doesn't know about the mystic realm. Same goes for Coughlin. She's a veteran swimmer with a magical power that enables her to win Olympic medals in every race she swims in, all 12…and counting…
What swimmers are superheroes to you?