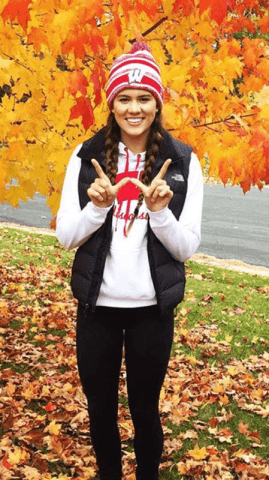 For more commitment articles, be sure to check out SwimSwam's College Recruiting channel.
According to Phil McDade at Wisconsin Interscholastic Swim Coaches Association, Verona/Mt. Horeb's Beata Nelson, arguably the best high school swimmer in Wisconsin state history and our #2 recruit in the class of 2016, will continue her swimming career at University of Wisconsin-Madison.
Nelson is an eight-time state champion, and has set records every time she has swum an individual event at the Division 1 state meet. She holds the D1 state records in the 50 free, 100 fly, and 100 back, setting the national high school record in the 100 fly last year at the state meet with an electrifying swim (a record since broken). Nelson has also anchored her Wildcats' 200 free relay to victories the past two years at state, setting the D1 state record last year.
Nelson had made official collegiate visits to Tennessee, Indiana, Michigan and Wisconsin as one of the nation's most highly sought-after recruits.
Keeping Nelson in state is the icing on the cake of what has been a phenomenal recruiting year for the Badgers. In addition to getting verbals from high school seniors Abby Kochevar, Hannah Lindsey, Kendall Smith, and Megan Doty, Wisconsin picked up two big transfers: Abby Jagdfeld moved over from Purdue this season and former Cal Bear Cierra Runge announced she would join the Badgers after taking a year to train for Olympic Trials.
Nelson will bring to the Badgers an immediate boost in the standings at NCAAs, with "A" final-worthy times in the 100 back (51.67) and 100 fly (51.08), for starters; an extra 20-30 points in individual events (to say nothing about what Nelson will add to relays) would have taken Wisconsin from 13th to 9th or 10th at 2015 NCAA Championships.
This summer, Nelson went best times in all of her main events, earning 2016 Olympic Trials cuts in the 50m free, 100m free, 100m back, 100m fly, and 200m IM. Her best times are:
 
SCY
LCM
50 back
 24.02
29.27
100 back
51.67
1:02.28*
200 back
1:55.68
50 fly
23.80
26.88
100 fly
51.08
59.97*
200 IM
1:57.88
2:18.15*
50 free
22.51
26.19*
100 free
49.29
56.06*
200 free
1:48.65
2:06.19
*Olympic Trials cuts
If you have a commitment to report, please send an email to [email protected]