This article was updated Wednesday, 10/10/2018.
At the recent United States Aquatic Sports Convention in Jacksonville, Florida, the USA Swimming Board of Directors met to approve sites for meets coming up in the 2019 and 2020 calendars, including the 2019 Futures Championships.
However, the dates that were voted upon by the Board of Directors resulted from a miscommunication between what is in the rules book (that the meets be held the same week as juniors) and the decision of the Senior Development Committee, which has authority to overrule the rule book dates, to have the meet a week earlier.
The Senior Development Committee voted, before the Board of Directors meeting, to host the meets from August 1st-4th, 2019. As a result of those new dates, 2 of the 4 elected sites (Irvine and Knoxville) were unavailable and had to be changed.
Thus, next year's Futures Championships will be held simultaneously from August 1st-4th in the following 4 regional sites:
Gresham, OR – Mt. Hood Community College (new location)
Des Moines, IA – Mid-American Energy Aquatic Center at the Wellmark YMCA
Geneva, OH – Spire Institute
Greensboro, NC – Greensboro Aquatics Center (new location)
USA Swimming has also released the time standards – which are the same for each of the 4 championships. For the women, 9 of the 14 individual events have faster time standards compared to 2018 (both LC and SC). For the men, 7 of the 14 individual events have faster SC time standards in 2019, while the LC time standards are the same from 2018. All 2019 relay time standards remain the same from 2018.
You can see the full 2019 time standards below and reference the 2018 times under National Meet Standards here.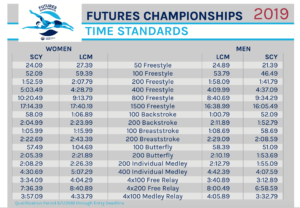 The Futures series was launched in 2015, and in 2016 was expanded from 3 to 4 regions. The event was designed to add another stepping stone to the developmental pathway between Sectional Championships (which fall roughly along LSC boundaries) and Junior National Championships. The 2018 Futures Championships took place August 2nd-5th in Santa Clara, CA, Rochester, MN, Richmond, VA, and Cary, NC.