Ashley Twichell nipped Italy's Rachele Bruni for the win in the 10K at U.S. Open Water Nationals this morning.
Twichell touched in 2:01:51.78 compared to Bruni's 2:01:52.02. USA Swimming tweeted a great look at the finish itself below:
.@atwich616 just out touches Italy's Rachele Bruni at the finish! #OWNats pic.twitter.com/ZxB7y7rsVk

— USA Swimming Live (@USASwimLive) April 8, 2016
Bruni took fourth at last summer's World Championships in the 10K, and was part of a highly-decorated field of foreign athletes at U.S. Open Water Nationals.
Third-place finisher Ana Marcela Cunha (2:01:55.41) was the 10K bronze medalist and 25K gold medalist for Brazil at last summer's World Championships. All three 10K medalists from last summer were in the field today: gold medalist Aurelie Muller of France led for part of the race but took 6th in 2:01:56.44, and silver medalist Sharon van Rouwendaal was 7th in 2:02:00.51 for the Netherlands.
American Olympic entrant Haley Anderson took 4th overall in 2:01:56.28. Anderson was the world champ in the 5K last summer and will be the only female open water entrant for the U.S. in Rio. She won the silver medal in the event in London in 2012.
You can check out the full finish order below, courtesy of a tweet from @USASwimLive: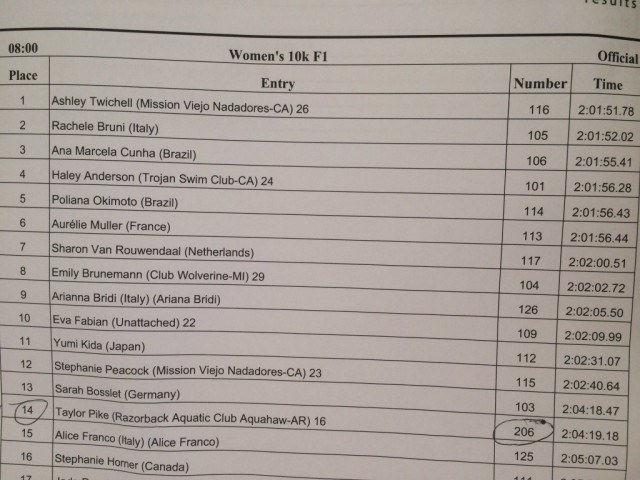 Official Women's 10K results #OWNats pic.twitter.com/cxr9BTG5Zv

— USA Swimming Live (@USASwimLive) April 8, 2016