The FINIS Tempo Trainer Pro is a great product due to its simplicity and versatility. It was designed to help swimmers match individual strokes to the audible tone. However, coaches and swimmers have taken this product and continually find new ways to implement it into their workouts. For example, it has come to our attention that coaches are using the tempo trainer as a means to keep their swimmers at a desired pace. Allow me to explain how this works.
For the sake of this explanation, our imaginary swimmer will hold a 1:00 pace for a set of 100 freestyles. The interval will be set to 1:30. A "double-oh" pace is met by holding 15-second 25's. Coaches are taking half of the desired lap time and dialing it into their Tempo Trainer. So for a 1:00 pace, at 15 seconds per lap, the Tempo Trainer will be set to beep once every 7.5 seconds.
Instruct the swimmer to push off of the wall on one of the Tempo Trainer Pro's beeps. This will start the imaginary clock that is now timing your swimmer and giving them feedback every 12.5 yards. The goal is to meet the beep once in the middle and once at the wall during every lap. Once the swimmer finishes the 100, their rest will also be dictated by the beep. Once set to 7.5 seconds, it will take four beeps to reach the 30 seconds of rest that have been included in the set. On the fourth beep of rest, push off the wall for the second 100 yard swim.
This is a valuable way to train for a number of reasons.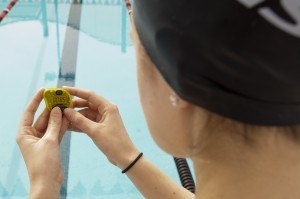 Swimmers benefit from having accurate and timely feedback without the presence of a coach. You know exactly how well you are holding pace, the point at which you excel or fall off the pace, and the amount of rest you are to take. This is also great for swimming through the holidays for college swimmers, as we often find ourselves at odd venues that do not have great pace clocks for intervals.
For coaches, it allows you to focus on other areas of your swimmers' set. Rather than using your watch to yell out times every hundred, the swimmer will know how close they are to their desired pace by listening for the beep at the finish of each swim. This leaves you free to monitor stroke technique and to run multiple groups at one time.
There are many variations to the use of this product. The creativity of the swim community is astounding and FINIS is proud to sell products that help our swimmers continue to push the envelope of possibility.
Your friend in swimming,
David Seiler
Be sociable, share!

For more information on FINIS and to view more products, go to: www.finisinc.com