A partnership between SwimSpray, Chloe Sutton and the Fitter and Faster Swim Tour Presented by Swimoutlet.com, will help increase awareness in the swimming community about the benefits of using all-natural formulas, to remove chlorine from your hair and skin. 
Over the past three years, SwimSpray has profoundly changed the way swimmers deal with that infamous "post-swim" chlorine burn and odor.  SwimSpray Founder, Dr. Andrew Chadeayne, is a lifelong swimmer and will admit that the smell of chlorine was very nostalgic for him, "I actually liked the smell, because it reminded me of swimming."  However, after earning his PhD in chemistry from Cornell University he became concerned about what that chlorine smell meant:  "You smell like chlorine, because you are covered in chlorine.  It's like walking around covered in bleach all day.  That's not good for you."
So, Dr. Chadeayne began his journey of working to solve swimmers' chlorine problems by using his chemistry background: "I searched for solutions that would neutralize the chlorine bonded to my hair and skin.  I wanted it to be healthy, so I started experimenting with all-natural solutions."  At first, SwimSpray was just shared among Chadeayne's close friends, but then the word began to spread and eventually go main-stream.
An example of the immensely growing popularity of SwimSpray, was in a recent post on Swimswam.com, where they offered free samples to participants who would be willing to share their experience.  The post went viral and the response from the swimming community was positively overwhelming, with thousands of swimmers sharing their stories with SwimSpray.
One such swimmer was two time Olympian Chloe Sutton, who wrote in to share her own personal experience: "For Christmas, my mom got me the perfume that I had been wanting for a long time.  I was disappointed, however, that when I wore it, I smelled like perfume mixed with chlorine.  Now that I use SwimSpray, I have gotten countless compliments on the way I smell.  I am so excited to have found this product and I recommend it to anyone I can."  It was a story that Chadeanye had actually never heard before and he immediately responded to Sutton to hear more.
The conversation was so motivating that SwimSpray has agreed to make Chloe Sutton their Athlete Ambassador for the next year.  As part of this program, Sutton will be able to utilize her presence on the Fitter and Faster Swim Tour, as a platform to share her personal experience with SwimSpray, directly with thousands of swimming families.
Dr. Chadeanye shares his excitement about the direction that SwimSpray is headed, "More and more swimmers are starting to see that there is a huge difference in the way your skin and hair feel, once the chlorine molecules have been completely removed."
He also expresses his excitement to be working with Sutton, "Chloe immediately struck me as an incredibly personable and genuine individual.  We were very lucky when she reached out to us and that we have been able to turn this into a great partnership.  The support from the entire swimming community has been incredible and I am honored to have an athlete like Chloe, be representing SwimSpray to swimmers of all levels."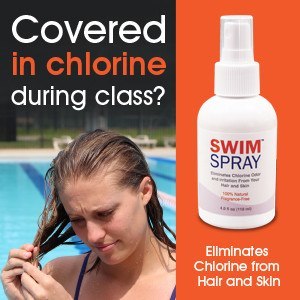 SwimSpray was invented by Dr. Andrew Chadeayne, a former Princeton University swimmer and chemistry Ph.D. from Cornell University. Tired of smelling like chlorine after his swimming workouts, Andrew set out remove chlorine from hair and skin ( SwimSpray works where so many other chlorine removal products (e.g., swimmers' shampoos) have failed previously because SwimSpray's all-natural vitamin C based formula breaks this bond, neutralizing the chlorine, and allowing it to be washed away with your favorite soap or shampoo.
Follow SwimSpray on Twitter here
Like SwimSpray on Facebook here  
Follow Chloe on Twitter: @csutswim