ANDREW CHADEAYNE:
We have had a very exciting couple of weeks at SwimSpray.  We have selected two new summer interns to help us distribute the product at the U.S. Olympic Training Center, Santa Clara Grand Prix, Olympic Trials, and the U.S. Open.
At the office, we have been gearing up for several open water swims that we are sponsoring in the upcoming months.  All this aside, I think that our most interesting project this month was raising money for the National Kidney Foundation by running a booth at the 2012 DC 101 Chili Cookoff.
            What on Earth does cooking chili have to do with a swimming accessory company?
Good question.  And you'll only understand the answer by appreciating that SwimSpray, LLC is not your ordinary company.  Our presence at the Chili Cookoff resulted form our COO's (Peter Wong) passion for making food.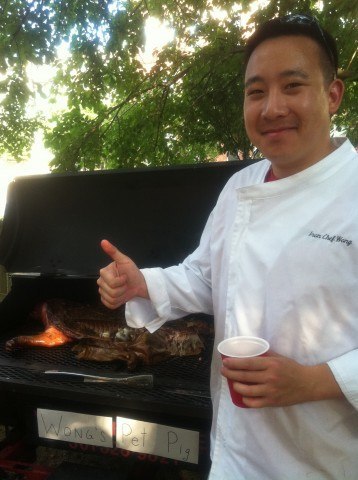 Peter Wong is a man of many talents.  Peter was a 4-year varsity swimmer for the Princeton Tigers.  While at Princeton University, Peter was also Manager of the Princeton Student Agency, which sold apparel on campus – T-shirts, souvenirs and the like.  He graduated in 2006.  However, Peter's involvement in designing, manufacturing, and selling T-shirts when far beyond Princeton.
Peter manufactured 20 million T-shirts in less than one year for what was then the world's largest manufacturer of retail T-shirts.  Peter is probably the only people I know who has made 20,000,000 of anything.  Twenty Million.  Peter has also manufactured SwimSpray's Shower with me T-shirts for our company.  But the volume has been slightly lower.
T-shirts aside, Peter is also a very talented cook.  The man makes perfect food.  Notably, one of our neighborhood restaurants, Rira the Irish Pub, invited him to guest chef.  He absolutely packed the place on a Monday night.
It doesn't surprise me that swimmers become interested in food – we're starving all of the time.  For example, Garrett Weber-Gale has launched a site (www.athleticfoodie.com) showcasing his culinary talents.
This year SwimSpray sponsored a booth at the DC 101 Chili Cookoff to raise money for the National Kidney Foundation.  Peter made a Turkey, Duck, and Chicken chili, which was a smash hit with the crowds.  Georgetown Hoyas' Head Swimming Coach, Jamie Holder was there promoting the chili and requesting donations from the crowd.  Peter's chili made it to the final round of judging but didn't medal.
My broken wrist aside (note crowd-surfing is NOT good for swimming), I'd say that the event was an overwhelming success.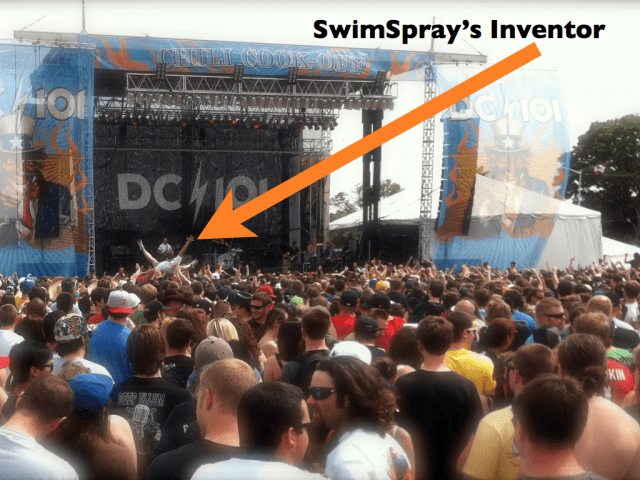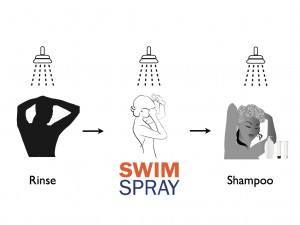 Dr. Andrew Chadeayne is a Ph.D in Chemistry, Master Swimming National Champion, and the inventor of SwimSpray. Follow him on Twitter @swimspray and fan him Facebook.