September 15th Strechcordz® swim training gear sponsors the world famous Annual Swim for Alligator Lighthouse.
Strechcordz®, a division of NZ Manufacturing, is proud to work with athletes around the world, providing them with effective tools for their training routines.
Strechcordz® will be onsite Friday and Saturday September 14-15th at the Annual Swim For Alligator Lighthouse to provide swimmers with expo specials.
SPECIAL PROMOCODE – OPENWATER20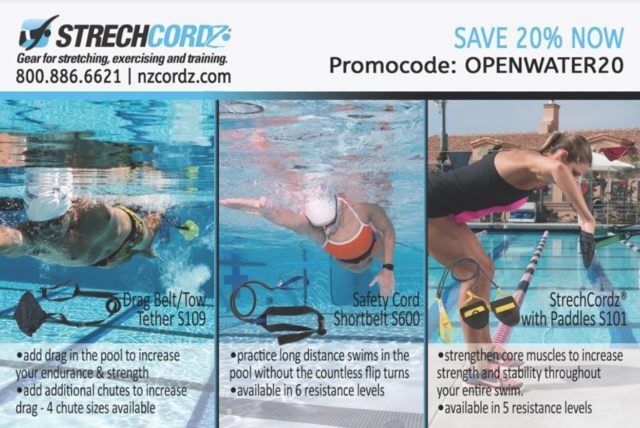 About Swim for Alligator Lighthouse: The Swim for Alligator Lighthouse is an annual 8- mile open water swim that takes place in Islamorada, the Florida Keys. At 52 years old, Fighting Manatee Larry Herlth decided to swim to Alligator Reef Lighthouse and back. It took him five hours and 11 minutes. He was escorted by several boats and paddle boarders. Moments after finishing this swim, Larry asked, "I wonder if anyone would join me in this challenging swim through the beautiful blue Atlantic Ocean of the Florida Keys?" Clearly, the answer was a resounding yes. Known locally as "Lighthouse Larry" for his detailed, scale metal reproductions of Keys lighthouses, Herlth is passionate about the need to preserve the large beacons originally fabricated in the 1800s to warn ships away from the Florida Keys reef tract. "One of the best open water swims in the world," combined with the fabulous Islamorada and Florida Keys hospitality and charm, make this a swim you won't want to miss!
STRECHCORDZⓇ GEAR FOR SWIM TRAINING

Using StrechCordzⓇ products for swim training will provide resistance of varying levels that can be used for different levels of training that range from water aerobics and home pool use, to Olympic training. StrechCordzⓇ in-water resistance cords and bands are used by everyone from novice swimmers to competing Olympians for help with flexibility, stamina, speed, endurance, acceleration, and competition swim training. Our in-water resistance training equipment can be used for barge pulls, proper positioning, hip rotations, and more. StrechCordz® dry-land resistance bands and cords are ideal for those who need a portable form of training that they can take anywhere, as these can be used outside of water.
STRECHCORDZⓇ SAFETY CORD

What makes our StrechCordzⓇ resistance training line stand out from the rest? Our proprietary feature embeds a strong nylon cord within the latex tubing that is capable of extending to the maximum stretched length of the tube. The key benefit of this feature is that it minimizes over-stretching, and provides the safety and security that is needed for users to overcome any physical and mental barriers to their training.
OLYMPIANS RELY ON STRECHCORDZⓇTRAINING PRODUCTS
Olympic triathlete and former Ironman 70.3 champion Andy Potts has been a long-time user of StrechCordzⓇexercise bands. Here's what Andy says about his recent use of StrechCordzⓇ products:
"So, the past two years I've gotten away from my regular StrechCordzⓇ swim training tool work, and my swimming has definitely suffered (you may not be able to tell, but I certainly can). In April, I made the adjustment to go back to doing 5-8 minutes of using StrechCordzⓇ tools for dry-land work. I'm starting to see the results now and my swimming will be better this year because of it. Too valuable to forfeit that type of work."
ABOUT NZ MANUFACTURING
IMPROVING PERFORMANCE THROUGH RESISTANCE
StrechCordz resistance swim training tools improve stamina, power, stroke and Individual Medley times for international Olympians and novice swimmers. Both in-water and dry land equipment are used for full swimmer pull, tricep extensions, rowing, overhead raises, chest fly's, proper hip rotation, stroke efficiency and more. For high performance resistance training gear and workout instruction, turn to the products that Olympians and pro athletes rely on for their top results. Contact NZ Manufacturing at 800-866-6621 with your questions related to our line of products, or visit us online at www.nzcordz.com
Strechcordz® Social
Swim training product news courtesy of Strechcordz®, a SwimSwam partner ad.