On Course Technology Inc. is pleased to announce that its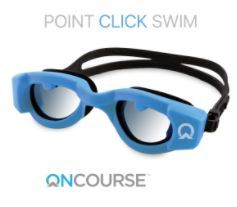 revolutionary product, OnCourse Goggles will begin shipping to U.S. customers in April of 2018. After a successful Kickstarter campaign and overwhelming interest from the triathlon and open water swimming communities, the company will open its online store for Pre-Orders, beginning on March 23.
"After years of development by a dedicated team, we are pleased to share OnCourse Goggles with the world,", said Peter Monahan, CTO of On Course Technology Inc. "Our technology was developed to help athletes swim straight, conserve energy, improve performance and reduce anxiety in open water."
The unique point-and-click design of OnCourse Goggles will allow the athlete to store a compass bearing with a single button press. This simple yet elegant design compares the swimmer's direction to the stored bearing and will provide real-time feedback during a swim directly to the goggles through a small LED array visible in each eyepiece. This feedback is immediate and will assist the open water swimmer achieve the most efficient swim possible. OnCourse Goggles are approved for use in all events sanctioned by USA Triathlon.
Starting March 23, OnCourse Goggles can be pre-ordered for USD $249.00 via the company website, for shipment within thirty days after order placement. Initial availability is limited and they are expected to sell out quickly.
About On Course Technology Inc.:
On Course Technology Inc. develops wearable technology to provide navigation, tracking and timing. OnCourse Goggles are patent pending and produced in the United States. 
If you would like more information about this topic, please contact Peter Monahan via email at inqui[email protected]
Swim Gear News courtesy of OnCourse, a SwimSwam partner.