Laura Val is one of the best masters swimmers in the world. So much so that she owns every world record in her current age group, 60-64, except the breast stroke events. Here Laura shares her three key tips on longevity and motivation.
After twice qualifying for the US Olympic Trials and gaining international selections, Laura retired at 21 to train as a nurse and have a family. She returned to the pool in her early 30s, set life time best times in her 40s, and has become one of the most inspiring masters swimmers in the world.
Staying motivated over such a long period of time is about more than simply swimming fast. Laura shares her insight:
Fundamentally I swim because I love it!
Spending time with friends and team mates is a great perk and you can build strong bonds with likeminded people
Traveling to meets is a great way to connect with friends who don't live near by
Be inspired by others. At US Masters short course Nationals I loved watching Matt and Annie Grevers. There is so much to learn from elite swimmers that can help you be better.
Every swim workout is beneficial
Try to make every workout a great workout, even if you're tired you can work on some aspect of your skills
I have never been to a swim practice and regretted going
Getting up at the crack of dawn can be tough, but it's always rewarding afterwards
Finding out what you're capable of can take you to unexpected territory
Being better than you've been before is a great way to approach your goals, that doesn't necessarily mean being faster
Keep learning, it can take a long time to truly master an event and be able to produce the perfect race.
Most of us probably gave up before we reached physical and mental maturity, if you believe that you can swim faster as an adult, you probably will!
Laura is set to 'age up' in 2016, so watch out; the 65-69 records will be under attack from 1 January. When she moved into the 60-64 age group, she broke every freestyle world record on her way through a single 1500m race. Quite remarkable!
She'll travel from home in California to be at the long and short course Nationals in North Carolina and Oregon respectively next year. She'll be wearing her favorite blueseventy neroTX and nero14 performance suits, which have helped break hundreds of world records.
Aptly named to suggest 70% of the earth is covered in water, blueseventy is the world leader in the pool, triathlon and open water wetsuits and swimskins. Since 1993, we design, test, refine and craft products using superior materials and revolutionary details that equate to comfort, freedom from restriction and ultimately a competitive advantage in the water. blueseventy products have instilled confidence in beginners as well as carried world-class athletes to countless Olympic and World victories.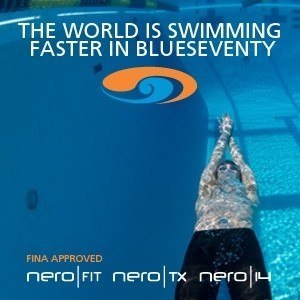 For the latest news and blogs from blueseventy visit www.blueseventy.com.
Twitter: @blueseventy 
Facebook: facebook.com/blueseventy
 Blueseventy is a SwimSwam partner.