2018 U.S. NATIONAL CHAMPIONSHIPS
Wednesday, July 25 – Sunday, July 29, 2018

William Woollett Aquatics Center, Irvine, CA
Prelims 

9 AM

 / Finals 

6 PM

 (U.S. Pacific Time)
Katie Ledecky raced prelims of the 200 free Thursday at the 2018 Phillips 66 National Championships in a practice suit, prompting many to wonder if she was just that confident.
Well, she might have been, but that wasn't the reason. She told the media Thursday night that she ripped two racing suits before prelims, and thus with time running out before her swim, had to opt for the practice suit. She posted the following on her Instagram story: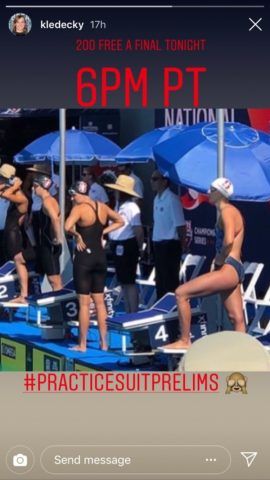 Ledecky cruised to a 3rd-place prelims finish, going 1:56.83. She later won finals in 1:54.60.
Reports of suits ripping have been common throughout the meet so far – Kathleen Baker also ripped two before her 200 back win Thursday night. Thanks to the Southern California heat, sweat, moisture, and busy locker rooms have made it particularly difficult to put on the über-tight suits.