Today is Ian Crocker's 34th birthday.
We would like to wish one of the fastest butterflyers of all time a very Happy Birthday!  If you haven't met Ian or watched him swim you really should.  He was one of Phelps' greatest rivals and one of the nicest guys you will ever meet.  Here's a little more info about Ian.
Ian Crocker, was a shy, tall swimmer from Portland, ME with no Olympic size pool to train in. However, the support of his coaches and family, coupled with his dedication to never giving up, enabled him to break on to the international swimming scene by winning an Olympic gold medal at the 2000 Sydney Games. Ian was only 18 years old.
Shortly thereafter, he went on to have one of the most successful collegiate swimming careers ever by winning the 100yd butterfly all 4 years at the University of Texas.  It was during that time that he became Michael Phelps' greatest rival.  They traded world championships and world records back and forth multiple times but it was finally Ian Crocker that held the world record for 6 years from 2003 to 2009.
Ian also helped lead the USA Medley Relay to gold at 2 more Olympics in Athens 2004 and Beijing 2008, for a total of 3 Gold Medals!  While one of the most dominant butterflyers and sprinters in history, he has a passion for his wife, classic cars, guitars and teaching young people.  Ian has become one of the most prolific instructors in USA Swimming, having taught in over 100 cities for the Mutual of Omaha BREAKout! Swim Clinic Tour of Olympians.
Only 2 men have beaten Michael Phelps in the 100m fly in major international competition.  What 2 things did they have in common?  Whoever answers correctly can enter a drawing to win a free Ian Crocker USA signed racing cap.  Enter your answers in the comments below.
If you would like Ian to come to your pool, just enter your information at http://www.breakoutswimclinic.com/
Here is Ian's world record race from 2005 Montreal.  Out in :23.51 and back in :26.89!  Enjoy…
If you have a favorite Ian memory or race, also comment below!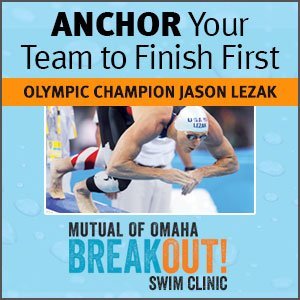 About Mutual of Omaha BREAKOUT Swim Clinic
Josh and Shantel Davis operate the Mutual of Omaha BREAKOUT! Swim Clinic and work closely with each client to ensure everyone has the experience of a lifetime. In the swim clinic business since 1995, they have a keen awareness of how to tailor clinics to meet clubs' needs and exceed their expectations.
As living proof that with hard work, dreams do come true, Josh and Shantel, along with Mutual of Omaha, believe every child has the potential for greatness. They and their staff look forward to working with your swimmers to get them closer to reaching their dreams.
This is courtesy of Josh Davis and BREAKOUT Swim Clinic, a SwimSwam Partner.