Courtesy of Josh Davis and The Mutual of Omaha BREAKout! Swim Clinic, a SwimSwam Partner.
New England LSC's own Olympians, Ian Crocker and Elizabeth Beisel, will be hosting a special Holiday clinic to help your kids BREAKout! tomorrow! Wednesday, Dec 28th at the Randolph High School Pool on 800 Randolph Street, Canton, MA 02021 and there are plenty of spots left!
The 11 and under clinic will be from 8:30am to 11:30am on Wed Dec 28th.
Convenient Registration link is here:
http://events.r20.constantcontact.com/register/event?oeidk=a07edlhrs8l17c544b5&llr=gt4iqmcab
The 12 and up clinic will be from 11am to 2pm on Wed Dec 28th.
Registration link is here:
http://events.r20.constantcontact.com/register/event?llr=gt4iqmcab&oeidk=a07edli3yrt0d0175a6
Both registrations can also be found here:
http://www.breakoutswimclinic.com/find-a-clinic/
There is still plenty of room left to sign up and work with two Olympic Legends!
Ian Crocker, born and raised in Portland, Maine, held the world record in the 100m fly for 6 years! (It was the one record Michael couldn't get until the rubbers suits:) Ian won gold in the 2000, 2004 and 2008 Olympics.
Elizabeth Beisel, proud product of Blue Fish Aquatics, made the Olympics in the 400 IM in 2008, 2012 and 2016, where she was elected captain of Team USA in Rio and is one of the toughest and funnest swimmers on the planet!
Wow! To spend the day with two 3x Olympians would normally cost around $150 but, thanks to Mutual of Omaha, the special holiday pricing you can spend the day with Ian and Elizabeth for only $85!
Ian and Elizabeth will be in the water for over 2 hours demonstrating, explaining, teaching and racing! Every participant receives a t-shirt, swim bag, 2 dvd's, autograph card and a picture with a real Olympic Gold Medal!
Ian and Elizabeth teach on all 4 strokes, starts and turns. They talk about nutrition, motivation, goal setting and more. There's time for q&a where you can ask them anything you want.
What a great Christmas present to have your swimmer learn from some of New England LSC's and TEAM USA's best swimming ambassadors, Ian and Elizabeth.
Thanks in advance for letting your swim families know about this wonderful Christmas training option.
Started in 2007, Mutual of Omaha BREAKout! Swim Clinics is celebrating its 10th year of serving the swimming community by offering the best Olympians for the best price.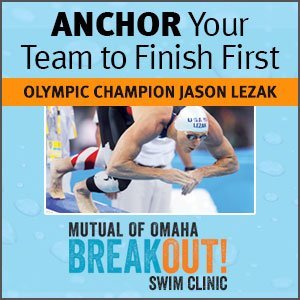 About the Mutual of Omaha BREAKout! Swim Clinic
In 2007, Mutual of Omaha partnered with Master Clinician and 2x Olympian Josh Davis, to create a swim clinic that was educational, exciting and affordable. Now over 700 clinics later, Josh and his Gold Medal Teammate Clinicians have inspired kids all across the country to dream big, never give up, commit to excellence, and BREAKout! The Mutual of Omaha BREAKout! Swim Clinic is the longest running swim clinic company in the USA that provides high impact clinics with great prices by the biggest stars in swimming.
Any questions can be sent thru www.breakoutswimclinic.com or [email protected]