Courtesy of Josh Davis and The Mutual of Omaha BREAKout! Swim Clinic, a SwimSwam Partner.
Mutual of Omaha BREAKout! Swim Clinic Team would like to wish everyone a very Merry Christmas!
In honor of this special time of year we will showcase 36 of our Olympian clinicians that are not only great swimmers but great people that love to inspire kids. Each day for the next 12 days of Christmas we'll learn a little more about these amazing Olympians.
On the First Day of Christmas….
Originally from Reading, PA, Kristy won the silver medal in the 200m breaststroke at the 2000 Summer Olympics in Sydney. She is also a 2 time World Champion (1998) in the 100 Meter breaststroke and on the 400 medley relay, where she also won the silver in the 200 meter breaststroke. She has won multiple international swimming medals in addition to braking 8 American Records and 1 World record during her career. Kristy was the first American woman to win the World Championship title in the 100 meter breaststroke and also the first American woman to break the one minute barrier in the 100 yard breaststroke.
What you may not now is that Kristy overcame unbelievable disappointment getting third several times at Olympic Trials before finally making the Olympic team in 2000. Kristy has been an elementary school teacher near where she grew up in Pennsylvania for 14 years and is superb communicator and instructor.
Kristy is leading a special holiday clinic in Merrill, WI on the day after Christmas Monday December 26th. For more information on attending Kristy's event go to 12.26.16 Merill Aqua Jays host Olympian Kristy Kowal
Irvine, CA native, Aaron Peirsol is the current world record holder in the 200m backstroke and was one of the most dominant and beloved swimmers of his time. The 3-time Olympian has a total of seven Olympic medals.
At his first Olympics in Sydney 2000 at only 17 years old, he took home a silver medal in the 200-meter backstroke. Then, in Athens 2004, he took home three gold medals and became just the fifth male to sweep the backstroke races. He continued his success in Beijing 2008, where he earned silver in the 200-meter backstroke and gold in the 100-meter backstroke and gold as part of the world-record setting team in the 400-meter medley relay.
Peirsol topped his career off in 2009 with a meet for the ages where he blasted his own world records in the 100 and 200m backstroke down to the incredible times of :51.9 and 1:51.9, with the 100m record just recently broke by good friend Ryan Murphy at :51.8, but Peirsol's 200m record still stands 7 years later.
After poetically winning the Pan Pac 100m back one more time in his home pool of Irvine, CA, Peirsol retired from racing in 2010. Aaron is now able to devote more time to his two passions, clean oceans and healthy kids. Peirsol is a spokesman for Oceana, the largest international ocean conservation and advocacy organization, and has been a 12 year ambassador for the Mutual of Omaha BREAKout! Swim Clinics, the longest running clinic tour of Olympians in the country.
Aaron and BREAKout! founder Josh Davis will be leading a clinic this Saturday Dec. 17th in Lander, WY. If you would like World Record Holder Aaron Peirsol to come to your team just contact Josh at http://www.breakoutswimclinic.com/
One of the newest members to the BREAKout! team of clinicians, and originally from Westampton Township, New Jersey, Kelsi had a steady progression in swimming throughout middle school and high school. Then at the University of Louisville, Kelsi busted on to the National scene her junior year setting the American Record in the 100yd fly becoming the first woman to go :49 seconds in that race. She went on to win the 200 fly also at the NCAA Championships.
Later in 2015 Kelsi represented the USA for the first time by winning gold at the Pan American Games. Kelsi then repeated as NCAA champion in the 100 and 200 fly and broke her own record in the 100yd fly with an astounding :49.3! Riding that momentum Kelsi went on to ultimately win Gold at the Rio 2016 Olympics on the 4×100 medley relay.
Not satisfied, Kelsi got right back in the pool and just broke the American Record in the 200m fly at the world champs on Dec 7th and also was part of the world record 4×50 medley relay. Now with 2 American Records in the 100 and 200 fly and a world record Kelsi is ready to inspire others and is poised for great things in Tokyo 2020!
Kelsi is doing several BREAKout! events for 2017, the first being a clinic in Cedar Rapids, Iowa with fellow World Record Holder Jason Lezak. If you would like Kelsi to show you her amazing dolphin kicks and record setting fly just head to www.breakoutswimclinic.com
Want to get your swimmer the ultimate swimmer present for 2017? Have one of our 36 trained and decorated Olympians come to your team and town. These Olympians want to work with your kids and help them BREAKout! to the next level. It is proven that when a younger athlete meets an older experienced athlete that demonstrates and models for them what perfect technique and excellence look like they can better catch the vision and emulate them.
Started in 2007, Mutual of Omaha BREAKout! Swim Clinics is celebrating its 10th year of serving the swimming community by offering the best Olympians for the best price.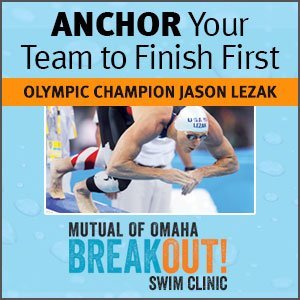 About the Mutual of Omaha BREAKout! Swim Clinic
In 2007, Mutual of Omaha partnered with Master Clinician and 2x Olympian Josh Davis, to create a swim clinic that was educational, exciting and affordable. Now over 700 clinics later, Josh and his Gold Medal Teammate Clinicians have inspired kids all across the country to dream big, never give up, commit to excellence, and BREAKout! The Mutual of Omaha BREAKout! Swim Clinic is the longest running swim clinic company in the USA that provides high impact clinics with great prices by the biggest stars in swimming.
Any questions can be sent thru www.breakoutswimclinic.com or [email protected]