Courtesy of Mutual of Omaha BREAKOUT Swim Clinic, a SwimSwam partner. 
This Saturday, November 19th, swimmers in the northeast will have the once in a lifetime opportunity to spend 3 hours working with 3x Olympian and American Record Holder Nathan Adrian and master motivator and Captain of 2000 Olympic Swim Team Josh Davis. Hosted by the Sussex County YMCA Pool at 15 Wits End in Hamburg, NJ and head coach Ray Gaffney, Josh and Nathan will be working with the 11 and unders for 3 hours and then working with the 12 and overs for 3 hours.
There are few spots left so register now at the links below:
Nathan doesn't get to the East Coast much – so you don't want to miss this one!  Nathan will be revealing his technique tips to sprint freestyle, turns, starts, nutrition, and strength training.  And how cool will it be to say your kid raced an Olympic Gold Medalist!
All participants receive:
a t-shirt
two dvd's
swim bag
and a signed Nathan Adrian Olympic cap
At 6'6, 225 pounds, Nathan is one of the greatest sprinters of all time! He holds the American Record in the 50m free and helped the USA to multiple medals in the relays in 2008, 2012 and 2016. One of Nathan's signature moments was upsetting Australian favorite James "The Missile" Magnusson in the 100m free in London 2012 with a lifetime best of :47.52 Nathan recently returned from Rio with 2 golds and 2 bronze to lead the USA Team as Captain to one of it's most dominating performances ever.
50m free :21.37 ***AR
100m free :47.52
50yd free :18.66
100yd free :41.06
ABOUT JOSH DAVIS

Josh Davis was the first American to go 1:46 in the 200m free at the 2000 Sydney Olympics. He just recently broke his own Masters American Record in the 40-45 age group going :20.6 He has been leading the Mutual Of Omaha BREAKout! Swim Clinic Tour for 8 years to challenge the next generation of swimmers to work harder, swim smarter and have more fun. Josh is a proud 2 breather and he will race anybody, anytime, anyplace.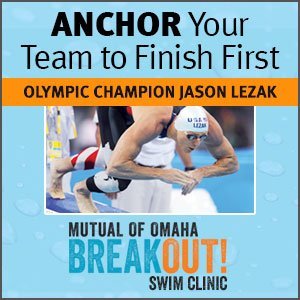 Josh and Shantel Davis operate the Mutual of Omaha BREAKOUT! Swim Clinic and work closely with each client to ensure everyone has the experience of a lifetime. In the swim clinic business since 1995, they have a keen awareness of how to tailor clinics to meet clubs' needs and exceed their expectations.
As living proof that with hard work, dreams do come true, Josh and Shantel, along with Mutual of Omaha, believe every child has the potential for greatness. They and their staff look forward to working with your swimmers to get them closer to reaching their dreams.
"Dreams come true…never stop believing."
AB