Erika Braun swam at the 2012 Olympic Trials as one of very small group of over 40s. Now the masters swimming world champion and record holder is putting her life on hold in pursuit of qualification for the 2016 US Olympic Trials, where she will be 44.
Erika is one of a handful of inspiring over 40s racing in top level competition and helping to demonstrate that with the right mind set and approach, swimmers can keep improving and enjoying competition well past typical retirement ages.
A former collegiate swimmer at the University of Georgia, Erika is chasing the trials cut of 26.19 in the 50m freestyle. She swam 26.32 in 2012, a lifetime best time. Now the Director of Human Resources at Golden Corral is taking a six-month sabbatical to give herself every opportunity to achieve the qualifying time.
She'll focus on improved technique efficiency, strength and power, reaction time and nutrition. Here's how she hopes to achieve her goal:
ONE – Increased training
I am increasing my number of swims per week from 4 to 6 (remember I'm a sprinter) and increasing weights from 2 to 3 per week. I will lift with my trainer on Monday, Wednesday and Friday, and swim once a day Mon-Sat. Intensity will definitely increase in all areas.
TWO – Focused gym work
I work with Wade Harris with Raleigh Personal Training on an independent basis for my strength training. Wade works with a lot of aspiring athletes including NBA hopefuls.
THREE – Better recovery
I'll be able to rest and recover while I increase the intensity. This is really important as an older athlete as I was not able to fully recover while working full-time. I try to sleep 10 hours a night, and deep tissue massages are really important as well with 3-4 of those planned per month.
FOUR – Nutrition
I have started working with nutritionist, Jennifer Brunelli, an All-American swimmer at South Carolina, and the team nutritionist for the Carolina Panthers football team. She really understands the nutritional needs of swimmers. I believe the greater nutritional focus is really going to make a difference for me.
FIVE – Working with kids
I train with my local Masters team, Raleigh Area Masters with Coaches Steve Weatherman and Sue Haugh, but I also train with an age group team at Marlins of Raleigh and Coach Paul Silver. Coach Silver really went out on a limb to work with me as a 40+ year old with his kids. I think we have all learned a lot from each other and the kids are really fun to be around.
I am fortunate to still be able to compete with these amazing young adults. At first, I felt awkward being the oldest at these meets, but I think the North Carolina competitors are used to having me on deck with them now. When I have my suit, cap and goggles on behind the blocks, I don't think anyone thinks about age.
SIX – Race more
My primary focus will be USA-S long course meets over the next six months, but I'm still doing Masters meets as well.
The long course meets will be as follows, where I'll have the opportunity for qualifying times:
April – Arena Pro Series Meet in Mesa, AZ
May – Chapel Hill, NC Quad meet
June – Houston, TX The Woodlands
July – Sr. Sectionals in Athens, GA
July – NC Senior Champs in Greensboro, NC
August – US Masters Swimming Nationals in OH
SEVEN – Never stop learning
I believe my continued strength training has made the biggest difference to enable me to swim so well in my 40s. I knew this was important in the past, but I never focused on it as much as I have been doing lately. I believe the strength and dry land training is just as important as what we do in the water.
It's also interesting to try new stroke techniques as our sport continues to evolve. I learn something new every day from Coach Silver. I think I have surprised him a bit as he comments, 'I guess an old dog can learn new tricks.'
EIGHT – Support
I have overwhelming support from my employer and co-workers. They gave me a multitude of cards and letters of support, emails and well wishes, including a good luck cake and a together to kick off the beginning of my leave. Golden Corral is also sponsoring and assisting with my travel expenses to meets.
I receive a lot of support from parents at meets. They are so encouraging and many have shared that I've inspired them personally, which means a lot to me.
My biggest supporter is my husband, Eric. He encouraged me to go after this goal and was supportive to request taking an unpaid leave of absence. Eric retired from practicing law in 2010 due to complications from Multiple Sclerosis and has been there every step of the way with me. This is a journey for both of us.
Erika Braun is an ambassador for blueseventy and www.goldencorral.com. She wears the blueseventy nero14 race suit and is spreading the word about healthy dining options at Golden Corral.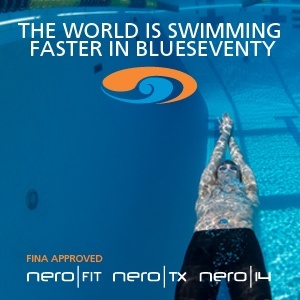 Aptly named to suggest 70% of the earth is covered in water, blueseventy is the world leader in pool, triathlon, and open water tech suits, wetsuits, and swimskins.
· Since 1993, we design, test, refine and craft products using superior materials and revolutionary details that equate to comfort, freedom from restriction and ultimately a competitive advantage in the water.
· blueseventy products have instilled confidence in beginners as well as carried world-class athletes to countless Olympic and World victories.
FOR THE LATEST NEWS AND BLOGS FROM BLUESEVENTY VISIT WWW.BLUESEVENTY.COM.
FACEBOOK: FACEBOOK.COM/BLUESEVENTY
Blueseventy is a SwimSwam partner.