2023 BRITISH SWIMMING CHAMPIONSHIPS
Tuesday, April 4th – Sunday, April 9th
Ponds Forge, Sheffield
LCM (50m)
World Championships Qualifier
The 2023 British Swimming Championships are on the horizon, with the action kicking off from Ponds Forge on Tuesday, April 4th.
The initial draft entries have been published which means we have a glimpse into the lineups key swimmers will most likely be taking on over the course of the six-day competition.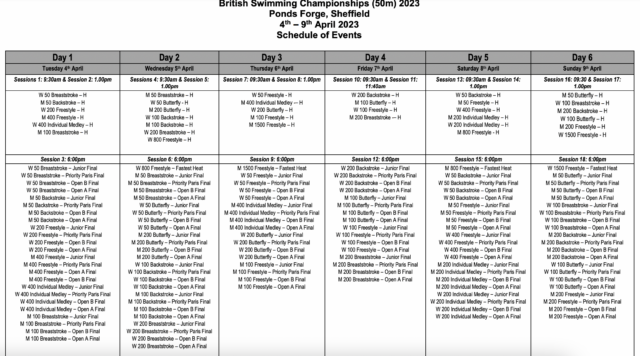 As a refresher, these Championships represent the sole qualifying opportunity British swimmers have to etch their names onto the nation's roster for this summer's World Championships. We reported how British Swimming has set very stiff times for its automatic consideration standards, with several even sitting inside the current national records.
British World Championships Qualification Times Are Faster Than National Records
We noted in our QT post that, as in the past, the British Swimming brain trust can still select swimmers for the Fukuoka roster at their own discretion.
Closer to the start of the meet we'll present the top races to watch, as well as all the links you'll need to follow along. In the meantime, below are the draft entries for high-profile contenders on the men's side.
Unfortunately for British swimming fans, the men's side continues to have a 400m IM problem. The top-seeded swimmer William Ryley carries the fastest entry time of 4:19.46, a mark which would have placed just 17th at the 2022 World Championships. Brodie Williams owns a lifetime best of 4:12.95 while Duncan Scott owns the national record with his PB of 4:09.18. Alas, neither athlete is listed on the 4IM entries while Olympic finalist Max Litchfield remains M.I.A. when it comes to domestic racing. Behind Ryley, Mark Szaranek does carry some hope, but the former Florida Gator's best time of 4:13.72 is from 2018 and his fastest in recent years has been 4:19.62 placing him 8th at last year's Commonwealth Games.
The men's 200m free continues to be GBR's most crowded event, led by the 1-2 Olympic podium punch of Tom Dean and Duncan Scott. If both are on-form, then they are the ones to beat, while the remaining competitors will be vying for relay spots. Among them is Welsh star Matt Richards who has been coming on strong since moving to Millfield. The Olympic relay champion posted multiple short course best times last year and most recently put up a 200m free time of 1:47.04 at the Pro Swim Series in Fort Lauderdale. James Guy, Jacob Whittle, Joe Litchfield and Ed Mildred are just a few of the entrants who will be gunning for at least a spot on the coveted relay.
Speaking of Guy, the 27-year-old Olympic medalist is narrowing his focus to just the 100m fly and 200m free for these British Championships. Some might forget that the Bath athlete was once a formidable 400m freestyler, taking silver in the event at the 2015 World Championships. Guy has also proven his mettle in the 200m fly event, with his PB of 1:54.92 ranking him GBR's 2nd-best performer all-time. However, Guy is sticking to what's been most productive for him over the last couple of years. He's been an integral component of the nation's 800m free relay and medley relays since 2017 and taking on just 2 individual events here will most likely work in his favor.
Dean and Scott have mirrored one another in terms of events for the British Championships, with each taking on the 100m free, 200m free and 200m IM races. Although Lewis Burras enters the 100m free with a top-seeded effort of 47.63, Dean has been as quick as 47.83 and Scott as swift as 47.87. The race will surely come down to the wire among this trio, while Litchfield, Ingram, Richards, Whittle and more will try to make their big move. The 200m IM appears to be a battle between Scott & Dean again, but each will need to get under the stiff 1:56.22 British Swimming QT to automatically secure their position.
Jonathon Adam – 50m/100m back
William Bell – 200m/400m/800m free
Kieran Bird – 100m/200m/400m free
Lewis Burras – 50m/100m free
Tom Dean – 100m/200m free, 200m IM
James Guy – 100m fly, 200m free
Daniel Jervis – 800m/1500m free
Luke Greenbank – 100m/200m back
Jamie Ingram – 50m/100m free, 50m/100m fly
Joe Litchfield – 100m back, 100m/200m free, 200m IM
Jonathon Marshall – 50m/100m/200m back, 50m/100m fly
Ed Mildred – 100m/200m free, 100m fly
Hector Pardoe – 400m/800m/1500m free
Adam Peaty – 50m /100m breast
Jacob Peters – 50m/100m fly
Ben Proud – 50m free, 50m fly
Matt Richards – 50m/100m/200m free
Duncan Scott – 100m/200m free, 200m IM
Mark Szaranek – 200m/400m IM, 200m free
Luke Turley – 200m/400m/800m free
Jacob Whittle – 50m/100m/200m free
James Wilby – 50m/100m/200m breast
Brodie Williams – 100m/200m back