2023 BRITISH SWIMMING CHAMPIONSHIPS
Tuesday, April 4th – Sunday, April 9th
Ponds Forge, Sheffield
LCM (50m)
World Championships Qualifier
The 2023 British Swimming Championships are on the horizon, with the action kicking off from Ponds Forge on Tuesday, April 4th
The initial draft entries have been published which means we have a glimpse into the lineups key swimmers will most likely be taking on over the course of the six-day competition.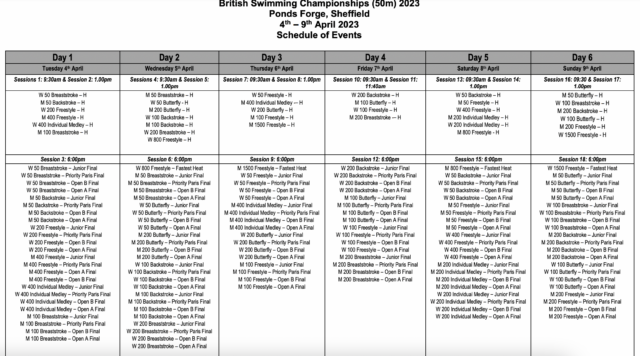 As a refresher, these Championships represent the sole qualifying opportunity British swimmers have to etch their names onto the nation's roster for this summer's World Championships. We reported how British Swimming has set very stiff times for its automatic consideration standards, with several even sitting inside the current national records.
British World Championships Qualification Times Are Faster Than National Records
We noted in our QT post that, as in the past, the British Swimming brain trust can still select swimmers for the Fukuoka roster at their own discretion.
Closer to the start of the meet we'll present the top races to watch, as well as all the links you'll need to follow along. In the meantime, below are the draft entries for high-profile contenders on the women's side. The initial review doesn't reveal anything too shocking or out of place, although there are some individual programs to consider.
Freya Anderson – 100m/200m free
Amelie Blocksidge – 200m/400m IM, 200m fly, 400m/800m/1500m free
Lilly Booker – 200m IM, 100m/200m breast
Imogen Clark – 50m /100m breast, 50m free
Freya Colbert – 200m back, 400m IM, 400m/800m free
Lauren Cox – 50m/100m back
Leah Crisp – 400m/800m/1500m free
Kathleen Dawson – 50m/100m back
Kara Hanlon – 50m/100m/200m breast
Medi Harris – 50m/100m back, 100m/200m free
Holly Hibbott – 100m/200m fly
Isabella Hindley – 50m/100m free
Lucy Hope – 100m/200m free
Anna Hopkin – 50/100m free
Emily Large – 100m/200m fly
Fleur Lewis – 400m/800m/1500m free
Keanna Macinnes – 100m/200m fly
Leah Schlosshan – 200m free, 200m/400m IM, 100/200m breast
Katie Shanahan – 100m/200m back, 200m/400m IM
Laura Stephens – 100m/200m fly
Abbie Wood – 100m/200m free, 200m IM