Disclaimer: BlueSeventy Swim of the Week is not meant to be a conclusive selection of the best overall swim of the week. The BlueSeventy Swim is an opportunity to take a closer look at the context of one of the many fast swims this week, perhaps a swim that slipped through the cracks some as others grabbed the headlines.
It was an inauspicious start to the 2014 Short Course World Championships for Cesar Cielo.
The Brazilian skipped his federation's major summer meet, the Pan Pacific Championships, to focus on Short Course Worlds, and seemed to have a shot at unifying all three 50 free records (long course meter and short course meter world records and the short course yard U.S. Open record) based on his sprinting in Doha.
But the 50 never quite went Cielo's way. Though he led the field through heats and semifinals, he couldn't quite break 20.8 in either race, and actually wound up adding time in the final and struggling just to come down with a bronze medal as France's Florent Manaudou crushed the world record that could have been Cielo's.
For the first time in a long time, there seemed to be some doubt on Cielo's future at that point. At 27 years old, was he losing his touch? Could he stay ahead of the young sprinters like Manaudou (24), Vlad Morozov (22) and Marco Orsi (23)? Would he even shortly be passed up by his own countryman, the 18-year-old Junior World Record-holder Matheus Santana?
It's inevitable for former champions to eventually give way to future ones. None of us is immune to age. Watching our sports heroes grow old is a quintessentially natural phenomenon – a sad one, yes, but a natural one.
But then there are athletes who transcend that level of nature. Cielo waited until the final day of competition to really heat up, but on that day, he made us all wonder what in the world made us consider 27 "old."
First was his individual 100 free, in which he beat out a red-hot Manaudou (fresh off two world records) for gold. Cielo back-halved his race like a machine, erasing a three-tenths-of-a-second lead for his first individual gold of the 2014 World Champs.
But probably more impactful was Cielo's anchor leg on the 4×100 medley relay, the very last men's event of the entire meet. Brazil trailed the United States by nearly a full second heading into the freestyle, and that description doesn't even do it justice. Cielo was swimming next to US anchor Ryan Lochte's feet as the two dueled from lanes 1 and 2.
Over the next 100 meters, though, Cielo reminded the world why he was once considered the most electrifying sprinter in the world. Closing like a freight train, Cielo made Lochte's world-class split of 45.8 look pedestrian, blasting a 44.67, the fastest 100-meter split of any human being in this event or the 4×100 free relay, and running down the Americans for gold.
With that gold medal, Brazil passed Hungary for the win in the overall gold medal count, the end to a ferocious comeback that saw the Brazilians win 4 of their 7 golds on the final day of action.
Cielo's anchor leg was a swim that had ripple effects across the meet, and was probably the most-talked about non-world-record swim of the meet, a reminder to never count out a living legend – no matter how he's performed in the early goings.
You can watch race video of Cielo's relay rundown here, courtesy of Universal Sports.
Other pertinent links:
(Note: In a weekend with 23 world record-breaking swims, plus two short course yard American records and a number of huge collegiate swims, Swim of the Week could have gone in at least 25 different directions. Considering each record-breaking swim got its own story and analysis, we chose to highlight another swim that didn't get as much fanfare in a busy weekend.)
Aptly named to suggest 70% of the earth is covered in water, blueseventy is the world leader in the pool, triathlon and open water wetsuits and swimskins. Since 1993, we design, test, refine and craft products using superior materials and revolutionary details that equate to comfort, freedom from restriction and ultimately a competitive advantage in the water. blueseventy products have instilled confidence in beginners as well as carried world-class athletes to countless Olympic and World victories.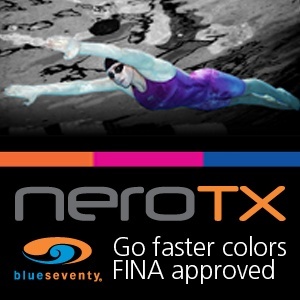 For the latest news and blogs from blueseventy visit www.blueseventy.com.
Twitter: @blueseventy 
Facebook: facebook.com/blueseventy
 Blueseventy is a SwimSwam partner.