Disclaimer: BlueSeventy Swim of the Week is not meant to be a conclusive selection of the best overall swim of the week, but rather one Featured Swim to be explored in deeper detail. The BlueSeventy Swim is an opportunity to take a closer look at the context of one of the many fast swims this week, perhaps a swim that slipped through the cracks as others grabbed the headlines, or a race we didn't get to examine as closely in the flood of weekly meets.
While a windy night in Mesa, Arizona produced mostly middling winner times at the 4th stop of the 2016 Arena Pro Swim Series, SwimMAC's Madison Kennedy sliced through the chop to the finest 50 freestyle swim of her career.
The 28-year-old Kennedy won the women's 50 free in an outstanding 24.45, overcoming a windy and somewhat chilly environment to hit a new lifetime-best.
Previously, Kennedy had been just 24.71, making her drop in Mesa a hugely significant one for a sprinter.
Despite being one of the oldest contenders for the U.S. Olympic sprint slots on the women's side, Kennedy is finding her best swimming in her late 20s, blowing out her early career times over the past year.
Back in 2012, Kennedy went a lifetime-best 24.93 at U.S. Olympic Trials at the age of 24. She's now eclipsed that time five times within the past calendar year, plus twice the year before that.
Three of her four best swims ever have come in the year 2016. Prior to Mesa, she won the Orlando Pro Swim Series stop in 24.71, tying her career-best at the time. And a month earlier, she finished second in Austin with a 24.72.
Kennedy currently ranks #6 worldwide for the season, and #1 among Americans. Though youngsters like Simone Manuel and Abbey Weitzeil have garnered much of the Olympic buzz, it's the veteran Kennedy who has put herself into the driver's seat heading into U.S. Trials.
With that 24.4, Kennedy also proved she could conceivably contend for an international medal in the event. The bronze medal time at both the 2012 Olympics and 2015 World Championships was just 24.3. Though it appears it will take more than that to medal in Rio, the Olympics are an up and down game: some swimmers will break out from their seed times, and others will underperform their production from a more familiar, domestic setting. After the Mesa meet, if Kennedy can put herself into the former category, she could fill what at times appears to be a huge sprinting gap for Team USA.
Aptly named to suggest 70% of the earth is covered in water, blueseventy is the world leader in the pool, triathlon and open water wetsuits and swimskins. Since 1993, we design, test, refine and craft products using superior materials and revolutionary details that equate to comfort, freedom from restriction and ultimately a competitive advantage in the water. blueseventy products have instilled confidence in beginners as well as carried world-class athletes to countless Olympic and World victories.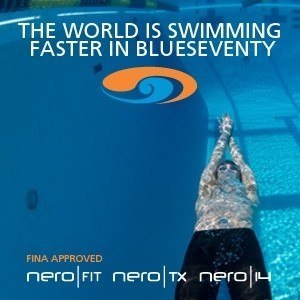 For the latest news and blogs from blueseventy visit www.blueseventy.com.
Twitter: @blueseventy 
Facebook: facebook.com/blueseventy
 Blueseventy is a SwimSwam partner.