With the explosion of fast swimming at the U.S. Olympic Trials dominating coverage last week, we're rolling last week's Blueseventy Swim of the Week into this week's in a U.S. Olympic Trials Double Feature. Yesterday, we looked at the best swim of the first four days of Trials, and today, we check in with the top swim of the meet's second four days.
"Prenot? More like Pre-Yes!"
Consider that one sportswriter's suggestion for a terrible pun for someone to make during live coverage of the Rio Olympics, where Josh Prenot will enter as one of the fastest-rising swimmers in the world.
Olympic Trials was an all-out explosion for Prenot, who shockingly came closer than any other American to a world record despite entering the meet more than a second and a half away.
Prenot uncorked a blistering 2:07.17 in finals of the 200 breast, just .16 off a world record that suddenly seems to have as many suitors as Odysseus's wife Penelope in Homer's classic epic.
The craziest part? Prior to Olympic Trials, Prenot hadn't been within a half-second of that record. One year ago, he had barely been under 2:09.
Here's a quick look at Prenot's progression of lifetime-bests leading up to that 200 breast final:
| | | |
| --- | --- | --- |
| Date | Meet | Time |
| August 2014 | 2014 Summer Nationals | 2:10.43 |
| May 2015 | Charlotte Pro Swim Series | 2:09.49 |
| July 2015 | World University Games | 2:08.90 |
| April 2016 | Canadian Olympic Trials | 2:08.58 |
| June 2016 | U.S. Olympic Trials – Semifinals | 2:08.41 |
| June 2016 | U.S. Olympic Trials – Finals | 2:07.17 |
That's an absurd drop of 1.4 seconds in all at Olympic Trials for Prenot, who now leads the world by half a second and should be in prime gold medal contention if he can repeat or better his time in Rio.
And if he does win the event, this sportswriter stands by his terrible "Pre-Yes" suggestion for NBC's live TV commentary. Someone pass it along to Rowdy Gaines.
Because choosing just one race is so difficult, here are a few honorable mentions from the last four days of Trials:
Women's 100 Free: With a 53.28, Abbey Weitzeil is closing in the first sub-53 second swim in American history. And while the Australians are still the front-runners, things are looking good for the American 4×100 free relay. 6 Americans are now in the top 20 in the world ranks this season. Australia has 5, but no other country has more than 2 inside the top 20.
Men's 50 Free: Props to Anthony Ervin, who makes his 3rd Olympic trip and continues to befuddle Father Time. And equal respect to Nathan Adrian, who will contend for Olympic medals in both sprint free races after missing the Olympic team in this event last time around. Plus, who doesn't love a race that comes down to .01 seconds between two longtime training partners?
Men's 200 Back: A full-second drop for Ryan Murphy is no joke. He and teammate Jacob Pebley sit #2 and #4 in the world this year and toppled 2012 Olympic champ Tyler Clary in a hard-fought battle.
Men's 200 IM: The victory lap for Michael Phelps and Ryan Lochte, who continue their stranglehold on this event. The two have gone 1-2 in the 200 IM at the past 4 Olympic Trials, and could very well end their careers with a gold-silver sweep in Rio.
And one quick honorable mention from the other side of the world:
Cate Campbell's 100 Free: The world record no one saw coming, even Cate Campbell. We focused our two-part Swim of the Week on the U.S. Trials, but the Australian Campbell's genuine surprise at her world record is just too good – and so is her swim.
Aptly named to suggest 70% of the earth is covered in water, blueseventy is the world leader in the pool, triathlon and open water wetsuits and swimskins. Since 1993, we design, test, refine and craft products using superior materials and revolutionary details that equate to comfort, freedom from restriction and ultimately a competitive advantage in the water. blueseventy products have instilled confidence in beginners as well as carried world-class athletes to countless Olympic and World victories.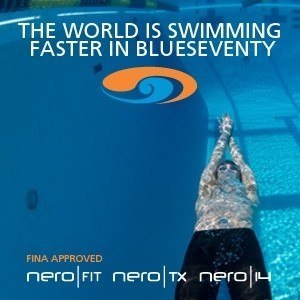 For the latest news and blogs from blueseventy visit www.blueseventy.com.
Twitter: @blueseventy 
Facebook: facebook.com/blueseventy
 Blueseventy is a SwimSwam partner.