Disclaimer: BlueSeventy Swim of the Week is not meant to be a conclusive selection of the best overall swim of the week, but rather one Featured Swim to be explored in deeper detail. The BlueSeventy Swim is an opportunity to take a closer look at the context of one of the many fast swims this week, perhaps a swim that slipped through the cracks some as others grabbed the headlines, or a race we didn't get to examine as closely in the flood of weekly meets.
With the general excitement and huge fan popularity of American college swimming, we've been pretty focused on short course yards swimming around these parts as of late. But just a week after the end of the NCAA season, Australian phenom Kyle Chalmers gave SwimSwam readers a great reason to switch gears.
Swimming at Australia's long course national championships, Chalmers, just 16 years old, blasted two of the finest junior times we've ever seen, going 48.89 in semifinals, then 48.69 in finals, both times breaking the 15-16 Australian Age Record.
That's the 9th-best time of this year, and would have finished in the top 25 for all of 2014. Equally impressive is that Chalmers now sits just four tenths off the Junior World Record set by Brazil's Matheus Santana at last summer's Youth Olympic Games. Chalmers still has nearly two full years to chase that record.
But aside from all of those statistical accolades is that Chalmers' big swim should instantly engage fans in the coming long course season because of its potential international significance. The Aussies already have some of the world's best sprint freestylers, including established icon James Magnussen and rising star Cameron McEvoy, who finished last year sitting first and second in the world ranks.
With Tommaso D'Orsogna going 48.5 at Aussie Nationals, the Land Down Under suddenly has the makings of one of the world's most exciting 400 free relays. If Olympic swimming has a "marquee" event, that race has been it the past few seasons. Winning the relay this summer at Worlds, or especially next summer at the Rio Olympics, would instantly vault Australian swimming back to the pinnacle of world swimming, an inner circle that Australia has started to slip from since the legendary days of Ian Thorpe and Grant Hackett.
If history is any indicator, that event will come down to one swimmer on somebody's relay suddenly catching fire and doing something superhuman. In 2008 it was American Jason Lezak; in 2012, France's Yannick Agnel provided his own relay-rundown fireworks.
2016 might be a little too early to expect Chalmers to rise to that level with a 46-second split, but it wouldn't be the biggest shock if he were suddenly among the world's elite a year from now. The young freestyler has all the tools you look for in a sprinter: a big frame, huge feet and a ton of general athleticism. At the minimum, he gives Australia three of the world's best sprinters, all under 24 years old (Magnussen is 23, McEvoy 20). At best? Chalmers could turn out to be a freakishly-fast difference-maker in Australian swimming for the next decade or more.
Aptly named to suggest 70% of the earth is covered in water, blueseventy is the world leader in the pool, triathlon and open water wetsuits and swimskins. Since 1993, we design, test, refine and craft products using superior materials and revolutionary details that equate to comfort, freedom from restriction and ultimately a competitive advantage in the water. blueseventy products have instilled confidence in beginners as well as carried world-class athletes to countless Olympic and World victories.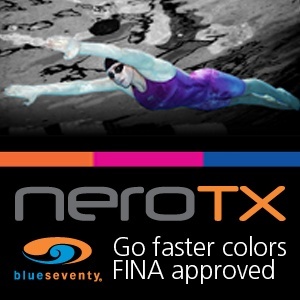 For the latest news and blogs from blueseventy visit www.blueseventy.com.
Twitter: @blueseventy 
Facebook: facebook.com/blueseventy
Blueseventy is a SwimSwam partner.