Kyle Chalmers, a sprint sensation from Australia, trains at Marion Swimming Club in South Australia under coach Peter Bishop.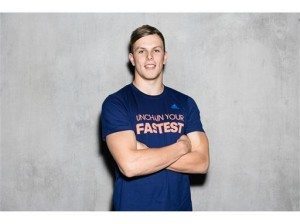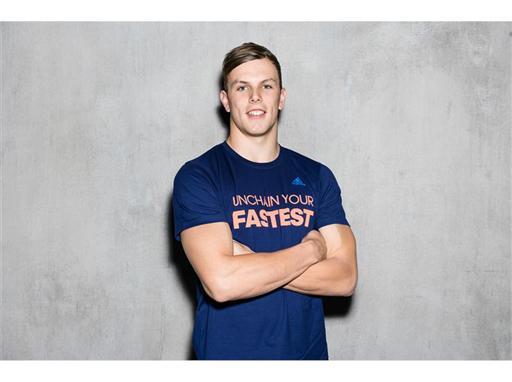 Chalmers comes from an athletic background. His father, Brett, played in the Australian Football League and from an early age it looked as though Chalmers wanted to follow in his dads foot steps. Swimming was just one of the many sports Chalmers played growing up, and it wasn't until a few months before his international breakout season in 2015 that Australian football was another big priority.
After an impressive year in the pool in 2015, Chalmers signed a multi-year deal with Adidas.
International Competition
Chalmers made his mark in the history books at the Australian Swimming Championships. He destroyed the Australian Age group record in the 100 meter freestyle by almost a second in a time of 48.89. The time also made his the youngest swimmer ever to break 49 seconds. His performance earned him a spot on the World Championship team.
2015 FINA World Championships
Despite suffering a broken wrist and torn ankle ligaments from an Australian Football game months earlier, Chalmers made his international swimming debut in Kazan.
Chalmers was part of the 4×100 meter freestyle relay, in which the Australians failed to make the final. Chalmers was the one shining light to come out of Australia's disappointment in the event. The 17-year-old showed his promising talent with the 3rd fastest split of all heat swimmers in 47.92. He swam an even better split in the final leg of the 4×100 medley relay heat, in 47.86. Although Chalmers didn't swim the final, Australia took 2nd, giving Chalmers his first international medal.
2015 FINA World Junior Championships
A couple of weeks later, Chalmers was in Singapore to prove why he was considered one of the world's most promising young swimmers. In seven events, Chalmers claimed seven medals and a Championship record.
First up was the 4×100 freestyle relay. Chalmers swam the second leg, taking over in 4th place. His split of 48.41 took Australia into first place, which they kept the rest of the way to defend their title. On day two, Chalmers added a silver in the mixed 4×100 medley relay in his fastest ever split of 47.68. He also took silver in the mixed 4×100 freestyle relay. Chalmers took his first individual gold in the 50 meter freestyle in 22.19. That same night, he showed his endurance, doubling his usual distance in the 4×200 freestyle relay, in which Australia took silver. Maybe his most impressive swim came on the final day in 100 meter freestyle. Chalmers swam a new Championship record time of 48.47. Chalmers finished off the meet with a bronze in the 4×100 medley relay.
Making his Olympic Debut
Chalmers booked his spot on the plane to Rio with a silver in the 100 meter freestyle at the 2016 Australian Championships. He went in to the final seeded fourth, but had a stunning race to beat out some tough competition.
In his first race in Rio, Chamlers joined James Roberts, James Magnussen and Cam McEvoy in the 400 meter freestyle relay to take the bronze medal. Swimming the second leg, Chalmers moved Australia from third position to second, ahead of France. But France had a better second half of the race, leaving Australia to finish third in 3:11.37.
In his individual 100 meter freestyle, 18-year-old Chalmers won gold in a new Junior World Record. It looked like he had left too much work for himself to do after turning in 7th. But he came alive in the final 10 meters, streaking ahead to touch first in 47.58. Belgium's Pieter Timmers took second, leaving the defending Olympic Champion, Nathan Adrian to settle with bronze.
In his final swim at the Olympics, Chalmers won his second bronze as a member of the 4×100 meters medley relay. Chalmers had the fastest freestyle split of all swimmers in 46.72, but it wasn't enough to over take Great Britain for the silver. Mitch Larkin, Jake Packard and David Morgan joined Chalmers to take third in 3:29.93.