Swimming outside on a sunny day should be thrilling—but too often it's frustrating. On clear days, the sun can be blindingly strong, and your traditional goggles, even with UV Protection, can add extra stress if you have to pause to clean them, dump water out, and adjust for comfort.
After deep research, the tech startup TheMagic5 (which makes custom-fitting swim goggles) has introduced its solution: sleek, all-black goggles made with dark-tinted glass called BLACK MAGIC. Think of them as the swimming equivalent of an undercover, quietly-confident, sports car, which seems perfect if you want to block out the world for an hour and just focus on your strokes. Maybe that's why the model is appealing to indoor swimmers even more than open-water swimmers, according to the company's founders.
Like all of the company's goggles, BLACK MAGIC is made to custom fit your unique face after you scan your eyes and nose with their mobile app. The North Carolina company (founded by three men from Denmark) uses its algorithm—and knowledge from thousands of facial scans—to shape the curvature of the glass to fit your face.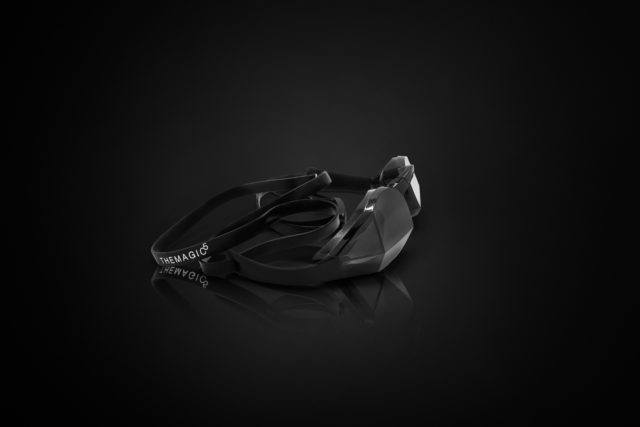 Despite the all-black design, visibility is crystal clear. The idea for the outdoor goggles arose from competitive swimmers in the company's network who wanted a goggle that would work in oceans, lakes, and other open waters on sunny days, when it's especially important to not be distracted by uncomfortable, water-filled goggles. After all, when swimming around an island, there's no pool wall to take a rest on and make adjustments.
To create the perfect outdoor goggle, the company took numerous steps. The team developed just the right dark tint of glass to allow the swimmer clear visibility while preventing anyone from seeing their eyes—a cool and rare feature. And the shape of the lenses—more geometric than most traditional goggles—is designed for ideal peripheral vision.
"Design integrity is very important to us as Scandinavians," co-founder Rasmus Barfred said. "As we developed BLACK MAGIC, we realized we were not only making a goggle that met an open-water swimmer's need for comfort, but designing one that all kinds of swimmers wanted but didn't yet have," he said.
Check out the new BLACK MAGIC on the company's website. As with all their goggles, after you buy a pair, you then download the app on iPhone and Android, and take a few minutes to scan your face. If you live in the U.S., you'll receive your custom goggles within five days.




THEMAGIC5 SOCIAL
TheMagic5 is a SwimSwam partner.