Courtesy of Jacob Johnson
If you're like most of us, you've spent a good amount of time over the past week plopped down on your couch, watching the Winter Games in PyeongChang and cheering for the Red, White, and Blue. There's nothing quite like the spectacle of an Olympic Games. But if you want to take your Olympic viewing to the next level, and just maybe help your swimming in the meantime, here are 5 takeaways from the Winter Olympics for swimmers!
1. Streamline like a luger
Ok, we realize that lugers (and their face-first skeleton counterparts) aren't actually in a streamline, but the principle is still the same. Age Group coaches spend hours establishing good streamlines, and Senior coaches continue to refine and improve your technique because a small change in your body position off a wall or during your underwaters can have a huge impact. In no sport is that more apparent than in luge, where competitors hurtle down a narrow icy track at speeds greater than 80 miles an hour. The slightest muscle out of place can ruin a good run or even cause a crash!
2. Long track speed skating = distance freestyle
Anytime you're watching the best in the world compete, they have an ability to make what they're doing seem almost effortless. That's especially true for the Winter Games, where so many of the events take place on slick, snowy, or icy surfaces. Watching skaters make their way around the rink might remind some of us warm-weather athletes of great distance-freestyle technique. If your coach has ever talked about 'front quadrant' freestyle or had you do 'catch-up' drill, just try and copy the push and glides you see from these winter athletes. (Bonus – check out cross country skiing or biathlon for the same technique done on skis!)
3. Remember that fractions of a second matter
In swimming we're used to fractions of a second being used to determine the outcome of our races. Every experienced swimmer has either won or lost – or gained or missed a cut – by a tenth or even a hundredth of a second. But in the Winter Olympics the speeds are so fast and the margins of success so thin that some of the sports measure to the thousandth of a second! Whether you're watching luge or slalom, bobsleigh or super-G, you're in for a stark reminder that the smallest amount of time can make the biggest difference in the world.
4. Everything's better with teammates
In swimming, we're used to training with our teammates but often competing individually. That's why it's such a fun change of pace when we get to race with our teammates as part of the same relay! It's also why so many swammers look back at their time in the sport and have their fondest memories of a team or relay accomplishment, and not just an individual achievement. Many Winter Olympic sports have embraced this idea and offer medals in either a team or relay version of their sport. We've always had relay events in cross country skiing or speed skating, and team sports like hockey or curling, but in Sochi (2014) figure skating got into the act by offering a 'team event'. There's even a 2-person luge, where teammates share a sled and fly down the course literally stacked on top of each other!
5. The Olympics are the pinnacle of these sports
This one may be a bit obvious, but that doesn't make it any less important! Swimming shares a connection to all of these winter sports; there are diehard participants and fans that enjoy it no matter what, but the Olympics are it's time to really shine. Some swimmers (Michael Phelps anyone?) are household names between Olympiads, but how many Americans had ever heard of Maya Dirado, Cody Miller, or Simone Manuel before Rio? So while it's great to cheer on higher-profile names like Shaun White or Lindsey Vonn, take some time to get to know Chole Kim, Chris Mazdzer, or the Lamoureux sisters.
At the end of the day, while all sports have their own rules, their own structures, their own goals and scoring, they are all connected by common threads – physical themes in addition to emotional and mental themes. All swimmers watch incredible swims by Michael Phelps, Katie Ledecky, and Caeleb Dressel, and it's easy to get inspired. But inspiration is all around, and we should never pass up an opportunity to be inspired.
About Jacob Johnson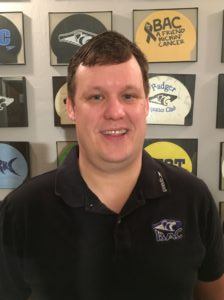 Jacob Johnson is the Head Age Group Coach for the Badger Aquatics Club in Madison, Wisconsin. He has been with BAC since 1999, has helped lead them to over a dozen LSC Team Championships, and has twice been named the WI LSC Age Group Coach of the Year. When he isn't coaching he enjoys spending time with family, especially his wife Rachel and their new baby Lillian.