RITTER Sports Performance is all about achieving higher performance so it was a "no-brainer" to sponsor the upcoming XLR8 World Summit.
Starting Monday April 30 through Thursday May 3, Eric Stefanski of Lifesparq is kicking off the 2018 XLR8 World Summit! (pronounced – accelerate)
Want to know more about the latest mental, physiological, nutritional and technological innovations that will help make your swimming performance faster?  Want to hear from some of the world's leading experts on human high performance and how they're helping their athletes be more successful?  Want practical tips grounded in science that will help age-group swimmers through Olympians?
This FREE event will blow your mind as you head into the summer season.  The best part, you can enjoy the summit right from your own home or office computer!
Want to get in on the action?  Register NOW
Tune in to hear presentations from:
Steven Kotler – Human Ultimate Performance Expert and Author of "The Rise of Superman: Decoding the Science of Ultimate Human Performance"
Dr. Leslie Sherlin – Neuroscientist for Athletes, has done over 35,000 EEG's on athletes in action, showing us what really happens in the brains of high performers
Leslie Bonci – Sports Dietitian to the Pros and advisor to multiple U.S. Nutrition Councils
Dr. Mark Aoyagi – Head of University of Denver Performance Psychology program & Mindfulness Innovations Expert
Chris Newport – Sports Dietitian to endurance athletes & owner of the Endurance Edge
Dr. Dan Feeney – Biomechanics and Movement Science Expert & Pro Triathlete
Grant Holicky – RallySport Aquatic Club Head Coach & High-Performance Coach to World Champions
Christen Shefchunas – Confidence and Leadership Coach to Female Athletes & Coaches
Ryan Hill – Former West Point Marathon Coach & Expert in Strength Training for Endurance Athletes
Joe Mannion – Performance Psychologist and Expert on the Collaborative Training Model
Riku Rimpela – Training Sense Smart Paddle: Power meter for swimmers
Tristan Lehari – Triton Wear: Training Data Collection for Swimmers
Graham Boulton – FocusBand: In Action EEG headband for athletes
Gabi Viteri & Robert Chalfant – Pro Snowboarder & Pro Triathlete –  The Next Evolution in Recovery
Eric Stefanski – Lifesparq High Performance Consultant on Making a Practical Innovation Transition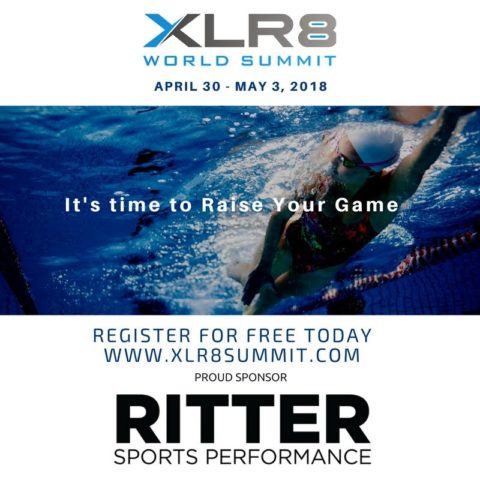 About RITTER Sports Performance:
RITTER Sports Performance helps swimmers go faster and coaches get better, worldwide. Through our online resources on strength training, stroke technique, swim-training, race analysis or nutritional coaching–RITTER is ready to help take your swimming to the next level. Are you?
Connect with RITTER Sports Performance:
Courtesy  of Ritter Sports Performance, a SwimSwam Partner.