Both Middleton in division 1 and Madison Edgewood in division 2 have maintained their top rankings following the release of the fourth WISCA poll of the 2018-19 season on September 30th.
Division 1 
Middleton is still the top team in the division by over 120 points. Sun Prairie moved up to second behind them with a total of 388 points after ranking third last week. Waukesha South-Mukwanago also moved up in the rankings, making their way into the top three after a fourth place ranking last week.
Arrowhead made their mark on the top 10 list, sitting at spot number five in the September 30th poll. They moved up 15 placings in order to do so.
Previously unranked Cedarburg now sits in sixth overall with 334 points. Menomonee Falls-Hamilton remains in 10th with 252 points.
Four teams that remain in the top 10 saw their rankings drop this week. Madison West, which was previously ranked second behind Middleton, dropped out of the top three to fourth overall. Verona Area-Mount Horeb went from fifth to seventh, Brookfield East moved from sixth to eighth, and Germantown dropped from eighth to ninth.
Both Madison Memorial and Bay Port, who were ranked seventh and ninth respectively, are no longer in the top 10.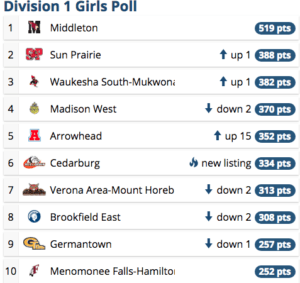 Division 2
Madison Edgewood has retained their number one ranking for the second week in a row sitting over 120 points above second place Baraboo.
Baraboo moved up 11 places from 13th overall to crack the top 10 and rank second this week behind Madison Edgewood.
Ashwaubenon moved from eighth to sixth and Monona Grove now sits in eighth after rankings ninth last week. Both Plymouth and Wausaeu East were previously unlisted, but now rank ninth and 10th overall respectively.
Tomahawk and McFarland haven't budged in their rankings since last week. Tomohawk remains in third and McFarland remains in fourth separated only by nine points.
Whitnall dropped out of the top three this week. They moved from second to fifth. Sauk Praire also moved down in the rankings. They're now seventh overall after being ranked fifth last week.
Seymour, New Berlin Eisenhower, and Jefferson-Cambridge are no longer ranked in the top 10.