SwimSwam welcomes reader submissions about all topics aquatic, and if it's well-written and well-thought, we might just post it under our "Shouts from the Stands" series. We don't necessarily endorse the content of the Shouts from the Stands posts, and the opinions remain those of their authors. If you have thoughts to share, please send [email protected]
This "Shouts from the Stands" submission comes from Jehn Kubiak.
I'm a distance swimmer who once became great at counting every last lap in my 1,600-yard warmup––but now I stopped counting. Pretty much every swimmer out there builds their workouts around total yards, sets of yards, etc;. Counting yards is useful in some areas––such as interval training––but what if swimmers tried something different and just completely forgot about yards for a bit?
As a distance swimmer, I generally use two or three different workout sets each week: one distance, one sprint, and one drill. For each set, I start with a 300-yard warmup, and then I begin the real workout. My distance workouts usually range from 4,000-5,000 yards––a 3,200 distance swim, 5×100 kick, 4×100 breaststroke, and 800 choice. My sprint set has many intervals: 10×50 freestyle and, 6×50 breaststroke sprints, plus a pyramid set, starting at 100 and going up to 500. On a good day, I'll also do the reverse pyramid. My drill set generally includes a 500 yards of pull buoy, another 300 with resistance paddles, 500 choice kick, and 800 freestyle with fins.
Clearly, I my workouts are carefully thought out by yards––so why did I suddenly abandon that approach?
First, I noticed my routine slowly became monotonous, even though I'm a creature of habit, so I stopped looking forward to my morning workouts. I've stuck to this pattern for a year, so that's expected. Second, I became plain tired of counting yards and sets––wait, did I actually swim 64 laps, or did I miss a few in there? Third, on days I was tired, I had no desire to keep counting: I simply wanted to get in the water and swim to my heart's content.
So, if I'm not counting yards or sets, what new approach do I take?
I started completing my workouts by time. I usually swim an hour or two a day, depending on how much time I have, but on busier days, I'll sometimes only swim a half hour. I've found that, depending on my energy and stress levels, I'll swim slower or faster on specific days. Therefore, I'll blaze through a workout too early, or I won't finish it and become disappointed in myself. Setting an allotted swim time gives room for change and will help you leave the pool (or ocean, if you're an open-water swimmer) satisfied.
Next, not having a set plan allows me to work on what I feel like that day. For instance, I really didn't feel like swimming a sprint set after a long day at work some days, but I still stuck with it. However, doing my workouts by time allows me to swim whatever I feel like. The other day, I jumped in the water and spontaneously decided I wanted to work on flip turns and kick drills. I did that for 20 minutes, swam freestyle for another 20, and then felt like swimming breaststroke during the last 20 minutes. I was one happy swimmer after that workout.
Lastly, swimming is a stress reliever for me, so not counting yards allows me to adequately relieve stress. Honestly, counting yards sometimes can just add to the stress, especially if I can't focus. However, not counting yards allows my brain to roam and contemplate the day's worries as I stroke through the water.
Now, not everyone may agree with me. Some swimmers may love counting yards and need sets, especially if they're training for an event like a marathon. However, I encourage you to at least try this for a week and see what happens. You never know: changing the norm might actually not be so bad, after all.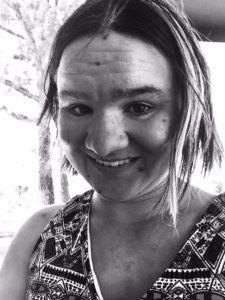 About Jehn Kubiak
Jehn Kubiak is a Biola University journalism graduate and a current pastoral care and counseling major at the Talbot School of Theology. She is a San Diego native who enjoys writing and distance swimming. She has lifeguarded for three years at Forest Home, Camp Pondo, the Biola Pool, and Hume Lake Christian Camps. Her book, "God's Grace Through Gastritis, GERD & Grit," will publish later this year.