Courtesy of Big Blue Swim School, a SwimSwam partner.
Big Blue Swim School, one of the nation's fastest-growing swim school franchises, is expanding its presence in Austin and coming to Houston through an agreement for three stores with Austin residents Menaka and Prashanth Krishnan. The couple plans to open two Big Blue Swim Schools in Austin and one in Houston over the next few years. They signed on as franchise partners after learning about the high-quality investment opportunity and best-in-class consumer offerings provided by Big Blue.
"What makes Big Blue so special is that we are teaching children a vital life skill," Big Blue's founder and president Chris DeJong said. "With Menaka and Prashanth's passion for these Texas communities, we know they will dive in and make a significant difference in the lives of thousands of children."
Prashanth has worked more than 15 years in various operational and strategy roles for Apple and Amazon. He previously led operations within Amazon Fresh ultra fast fulfillment and distribution. He has recently transitioned to managing returns and re-commerce for North American customer fulfillment. Menaka is an architect by education, with experience in the architecture, interactive design, and graphic design industries. She currently supports graphic content for local non-profit agencies and takes on free-lance projects helping companies create branding, website content, and logo design.
"Big Blue is a mission-driven business focused on creating big, life-changing moments for kids and families," Prashanth said. "We're excited to help children gain confidence through swim lessons."
Since opening in 2009, Big Blue has changed the way swim lessons are taught. "We show kids they can do anything by unlocking their full potential in the water," DeJong said. "This mission drives every operation at Big Blue, and we're confident Menaka and Prashanth will deliver that mission with passion and enthusiasm."
With an aggressive growth plan in place, Big Blue has already signed 201 units in 22 states across the country. With a goal of reaching 240 units by the end of 2022, the brand is uniquely positioned to be the leader in the $3 billion learn-to-swim industry.
Big Blue is primed to come out ahead of its competition with its stress-free facilities including ultra-clean, 90-degree water and a carpeted viewing lobby. The company is also committed to making life easier for parents by offering the ultimate flexibility in scheduling. "All of our stores have room for progress move-ups immediately when kids are ready, and families can schedule multiple kids of various levels and ages to swim all at the same time," DeJong said. "Our online software, LessonBuddy™, eliminates the challenges families can have when scheduling lessons for their family. And rescheduling lessons, when necessary, is always easy."
The proprietary enterprise system provides an ease in operating the business for franchise partners as well, allowing them to manage employee scheduling and pump room operations, while also tracking their costs and efficiencies remotely. Other top-tier franchisor support services include data-driven site selection, construction, technology, and marketing. "When our franchise partners open on day one, they operate like they have already been in business for years because of our technology, setting them up to scale quickly," DeJong said.
Big Blue franchise opportunities are still available in key markets across the country. To learn more, visit http://YourBigMomentStartsHere.com.
ABOUT BIG BLUE SWIM SCHOOL
Big Blue Swim School was founded in 2009 by competitive swimmer Chris DeJong. The first location opened in Wilmette, Illinois, followed by four additional Chicagoland schools. In 2017, Level 5 Capital Partners acquired a stake in the brand. Through that investment, Big Blue plans to grow through franchising to 150 pools by 2021. Big Blue Swim School's real estate expertise, strong brand, proprietary technology, and leadership support, coupled with its best-in-class consumer offerings, position its franchise partners for long-term success. To learn more about franchise opportunities with Big Blue Swim School, visit http://YourBigMomentStartsHere.com.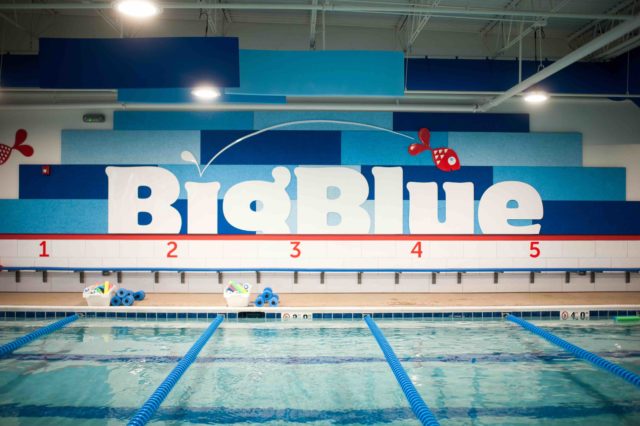 Big Blue Swim School is a SwimSwam Partner.