With the World University Games (WUGs) starting July 3rd, the men's swimming squad has announced its two captains as Kyle Whitaker and Seth Stubblefield.  The pair of studs are a natural fit, with Whitaker's University of Michigan coach, Mike Bottom, as well as Stubblefield's Cal coach, Yuri Suguiyama, both on the WUGs staff. Bottom is the men's head coach, with Suguiyama serving as an assistant along with John Flanagan and Kris Kubik.
Whitaker is slated to swim the 200 butterfly and 200 IM individually, while Stubblefield will be competing in the 50 and 100 freestyle sprints.  Paul Powers, Cameron Stitt and Mike Wynalda are the other swimmers on the roster making the trip from Ann Arbor, while Stubblefield is joined by Cal Aquatic teammates Jacob Pebley and Josh Prenot.
From Bottom's Instagram account, Whitaker and Stubblefield are already being put to work, leading the men through stretches as they prepare to take on the world's best starting in less than 24 hours.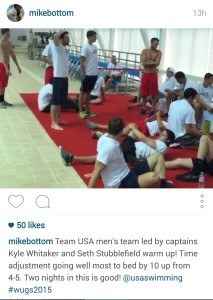 The full team USA roster for the 2015 World University Games can be seen here.