The HardCoreSwim of the week goes to Clay High School's Caeleb Dressell. The Clay High School senior broke the National High School Record and the 17-18 NAG Record in the 50 yard freestyle, and then broke the National High School Record in the 100 butterfly at the FSPA Invitational in Florida on Saturday evening.
At this mid-season meet, with little-to-no rest, Dressel swam a 19.36. That broke the 19.43 done by Vlad Morozov of Torrance High School in California.
After splitting a 24.99 50 yard breaststroke split (unbelievably fast for a high school swimmer in its own right), Dressel came back about 20 minutes later to break his first ever National High School Record, as well as the 17-18 USA Swimming National Age Group Record. The old 17-18 National Age Group Record belonged to Seth Stubblefield, who was a 19.41 as a freshman at Cal in 2012, and Dressel only turned 17 just over a month ago.
He came back with a 45.89 in the 100 yard fly. He was joined by club teammate, but high school rival, Joseph Schooling, who was a 46.20 in Saturday night's finals session.
Both swimmers were under the 46.50 overall record that Schooling set at last year's Florida 1A High School State Championship meet. Schooling, who swims for Bolles, will end up with the National Private High School record, and Dressel will take the public mark away from Connor Black, who was a 46.71 this spring.
The progress this pair is making is unbelievable. Dressel broke the National High School Record in the 100 yard fly by more than 6-tenths of a second mid-season. And this isn't even what we thought to be his primary event – though he said in a SwimSwam interview at the Junior World Championships that he would be toying with different races this season.
Dressel's potential now becomes truly terrifying. If he's going National High School Records mid-season, and if we can draw any comparison between the improvements of the Bolles-trained swimmers in 2012 at this meet and their state meet (he swims for Clay High School, but trains primarily under Jason Calanog and the Bolles club team), there is a distinct possibility of a sub-19 second 50 yard free. In the 100 fly, Dressel's time would have placed 5th at the 2013 NCAA Championships (three of the four swimmers faster than him were college seniors) and Schooling's would've placed 10th. That's in an event that is dominated by older swimmers – the top 15 at NCAA's were all juniors or seniors.
Dressel's swim in the 100 fly was the second-best ever among American 17-18′s, sitting behind only the 44.91 that Tom Shields did as a freshman at Cal. Dressel has almost two full seasons, including his first presumed NCAA Championship meet, to break those records.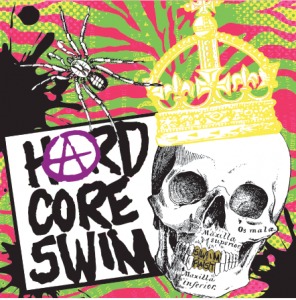 Founded on the pool decks of Southern California, HARDCORESWIM examines and explores the ethos of the hardcore swimmer. HARDCORESWIM is an authentic and innovative designer, marketer and manufacturer of premium quality men's and women's swimsuits, Custom Team Swim Suits, training gear, clothing, accessories and related products. Our true, authentic, innovative, iconoclastic, and creative style differentiates us from the bland competitive swim industry and gives us reason to be. All made in the USA. Check us out at www.hardcoreswim.com or find us at www.facebook.com/hardcoreswim .
Follow HardCoreSwim on Twitter here.