Caeleb Dressel is a two-time Olympic Champion and a thirteen-time World Champion. 
American sprint specialist, Caeleb Dressel was born in Green Cove Springs, Fla. on August 16, 1996 to parents, Michael and Christina Dressel. He also has three siblings, Kaitlyn, Tyler and Sherridon, all three of whom are all competitive swimmers. His talent was exposed at a young age, and before he was even a teenager Dressel was breaking records left and right; at the 2011 Junior National Championships in Palo Alto, Dressel broke the boys 13-14 National Age Group Record in the 50-meter freestyle. Throughout club and high school swimming Dressel trained with Coach Sergio Lopez's Bolles School Sharks at a time in which the club was referred to as a "dream team". He was one of the few members who didn't attend Bolles, but instead was a student at Clay High School. Dressel is a former Junior World Champion, NCAA All-American and multi-time National Age Group Record Holder.
At the 2017 World Championships Dressel won seven gold medals to tie Michael Phelps for the most won at a World Championship meet.
Caeleb Dressel History
2012 Winter Nationals
A year after breaking his first individual NAG Record, Dressel pulled it off again at the 2012 USA Swimming Winter Nationals. He led off the 200-yard free relay in 19.82, where he became the first swimmer under 16 years old to break 20 seconds. Dressel broke Bolles teammate Ryan Murphy's former 15-16 boys NAG Record. At the same meet Dressel was so dominant in the 100-yard free that he broke a 15-16 NAG Record that had been held for 22 years — a record that had been set in 1990.
2013 World Championship Trials
In 2013 Dressel competed at the World Championship Trials, and although he didn't qualify for the team, his performances were very impressive. In the preliminary swim of the 100-meter free, Dressel broke a 23-year-old National Age Group Record set and made him the youngest swimmer in U.S. history to swim a sub-:50 second 100-meter free. In the final of the event, Dressel swam the event radically different taking out the event nearly a half-second faster than prelims and even though he finished 8th in the race, Dressel crushed the 15-16 boys NAG Record for a 2nd time. A bit later, he broke his record for the third time at Junior Nationals, finishing in 49.28. Dressel also broke the 15-16 NAG Record in the 200-meter free.
His meet wasn't finished though, as Dressel then took on his primary event, the 50-meter free. Dressel tied the 15-16 NAG Record in the 50-meter free, where his 22.72 tied that of Shayne Fleming. The ironic part of the record is that it was done in a time trial since Dressel did not have the qualifying mark. Instead, Dressel travelled back to Florida to try and the break the tie at a home meet at Bolles. The swim paid off because Dressel took the title for his own this time, swimming a 22.59.
2013 Junior World Championships
After a stunning World Championship Trials performance for someone at such a young age Dressel was selected to the 2013 Junior Worlds Team in the 100-meter free, 50-meter free and 200-meter free. Dressel snuck into the 200-meter free final, and dropped nearly a second to finish sixth overall. In the same day he helped his U.S. team take bronze in the 4×100-meter medley relay.
After moving up an age group before traveling to Dubai for Junior Worlds, Dressel was now out for a 17-18 National Age Group Record. Dressel finaled in the 50-meter free, and touched third in 22.22, which was good enough for his 17-18 NAG Record — the mark had been set two weeks prior by Bolles teammate, Santo Condorelli. He broke his second 17-18 NAG Record in the 100-meter free, where he dominated the field breaking 49 seconds for the first time. His mark was good enough for gold, and good enough to take down the record, which was held by Michael Phelps.
Senior year competition
Competing for Clay High School Dressel turned his sights from USA to high school swimming after Junior Worlds. In his senior year Dressel showed off at the FSPA Invitational in Florida, where he broke the National High School Record in the 50-yard free with little to no rest. He also put up an impressive 50-yard breaststroke split on the 200-yard medley relay. To prove just how versatile he truly is Dressel broke the 100-yard fly at the same Invitational, and the race was his third in 45 minutes. At the Florida 2A High School State Championship meet in Stuart, Dressel broke his own National High School Record in the 50-yard free, and put up impressive times in both the 200-yard free and 100-yard free to win four state titles.
Dressel was highly regarded as the most coveted high school recruit in the class of 2014. Originally he looked at Florida, Texas, Auburn and Tennessee. After breaking seven National Age Group Records, Dressel committed to the University of Florida — the school his father also attended. Dressel says he chose Florida because he believed that Coach Troy could help him reach his goals.
First 18&U swimmer under 19 seconds
In December at the 2013 Winter Junior Nationals, and at just 17 years old, Dressel finally pulled off a sub-19 second swim. The 18.94 50-yard free he put up ranked 15th on the all-time list, regardless of age. The swim was also another 17-18 National Age Group Record for Dressel.
University of Florida
2014-2015

As just a freshman at the University of Florida Dressel had a stellar year. He was named the 2015 SEC Freshman Swimmer of the Year, was a three-time SEC Freshman of the Week and was named to the 2014 First-Team All SEC. After having a successful dual-meet season Dressel competed for Florida at the SEC Championships. He was runner-up in both the 50-yard free and the 100-yard free, and won his first SEC Championship in the 100-yard butterfly. Dressel also competed on four of Florida's relays. Dressel was the first freshman to be credited with seven wins since Shaun Frasier in 2007. While the relay teams won the Championship final, Dressel swam on the relay in the prelims only, thereby receiving credit for the win as being part of the relay teams.
Dressel was invited to the 2015 NCAA Championships, where the freshman led the Gators starting Day One, when he became the first Gator EVER to win an NCAA title in the 50-yard free, and became the first Florida freshman to win an NCAA title since 2005. His time in the 50 free (18.67) was a new school record, and he also earned Honorable Mention honors in the 100-yard free and 100-yard butterfly with 11th and ninth-place finishes. Dressel was also a member of four top-five relays.
2015-2016
Sophomore Caeleb Dressel returned to the 2016 SEC Swimming & Diving Championships in Columbia, Missouri as the defending NCAA Champion in the 50 yard freestyle. In prelims he dropped the fastest 50 yard freestyle in history, 18.39, to break the SEC, NCAA, American, and U.S. Open Records.
See the records he broke:
SEC Championship Record, Matt Targett, 18.52 (2009 SEC Championships)
SEC Record, Cesar Cielo, 18.47 (2008 NCAA Championships)
American Record, Nathan Adrian, 18.66 (2011 NCAA Championships)
NCAA Record, Cesar Cielo, 18.47 (2008 NCAA Championships)
U.S. Open Record (fastest ever), Cesar Cielo, 18.47 (2008 NCAA Championships)
This adds to the increasing legend of Dressel, who two years before became the first junior swimmer under 19 seconds in the 50 yard free, and then last season broke his own National Age Group Record with an 18.67 – which is still a whopping four-tenths of a second faster than anybody else in that age group has been.
USC's Vlad Morozov swam a 18.63 in 2013, his last year as a collegiate swimmer, that was the previous fastest time in a textile suit.
VIDEO – SEE DRESSEL'S 18.39 50 YARD FREE U.S. OPEN RECORD
2016 NCAA Championships
Once again, Dressel wowed the crowd, swimming to an 18.20 in the 50 free – a full .5 of a second ahead of 2nd place, posting new American, Pool, and NCAA records. He also won the 100 free in American, Pool, and NCAA records of 40.46, again an impressive .6 seconds ahead of 2nd place. He touched the wall 2nd in the 100fly, losing only to NCAA champion and former teammate at Bolles, Joseph Schooling.
Interesting side note, Dressel was named co-swimmer of the meet, sharing the title with his former age group teammates, and Bolles Swimming alumni Joseph Schooling and Ryan Murphy.
Watch Caeleb Dressel's 18.2 50 yard free:
2017 NCAA Championships
In his Junior year, Dressel made it a trio of golds in his individual swims at the NCAA Championships. He didn't fail to impress the crowd for the third straight year. He began the meet by defending his 50 yard freestyle title in 18.23, narrowly missing his own U.S. and NCAA record.
In the 100 yard fly, Dressel sat in fourth place at the halfway mark, but blasted off the wall the take down the rest of the field. He stormed home in 22.88 seconds to take the gold in a new NCAA and U.S. record in 43.58.
He arguably left his best race until last, destroying the U.S., NCAA and American 100 yard freestyle record in 40.00 seconds. He took the gold .95 of a second ahead of Micheal Chadwick in second.
Watch his 40.00 100 yard free:
Dressel also added a silver medal when he joined Jan Switkowski, Maxime Rooney and Mark Staranek in the 400 yard freestyle relay.
2018 SEC Championships
Dressel stamped his name atop another all-time list with a 1:38.13 in the 200 IM on at the 2018 SEC Championship Meet. In his first individual swim of the meet (he forsook his 50 free, where he's also the best of all-time, to swim the 200 IM), he surpassed David Nolan's US Open, NCAA, and American Records of 1:39.38.
Dressel built a predictable lead on the record in the fly, and gave it right back on the backstroke (his weakest stroke and Nolan's strongest). The biggest surprise is how much damage he put on Nolan on the breaststroke leg – neither is primarily a breaststroker, but both have shown that if they pushed the stroke, that they could be among the best in the NCAA.  On the freestyle leg, with the record essentially in-hand, Dressel put down a monster 23.72 split and nearly blew right through to a 1:37.
Dressel continued to amaze at his fourth and final SEC Championships, breaking the NCAA and American records in the 100 breaststroke in a time of 50.03. The swim knocks off Kevin Cordes' 2014 mark of 50.04. The 21-year-old improved his personal best from 51.88 to 51.07 in prelims, and appeared to have a bit left in the tank for finals. This marked five individual SCY American/NCAA records, adding the 200 IM and 100 breast to the 50/100 free and 100 fly.
2018 NCAA DI Championships
Day One: Dressel didn't swim the 4×200 free relay.
Day Two: Dressel, owner of the 10 fastest times in history, successfully defended his 50 free title at the 2018 NCAA Championships as he raced to the wall in 17.63. That makes him 4-for-4 in the 50 free throughout his NCAA career. His individual swim in the final came after he split a 17.81 on the leadoff split of the 200 free relay to kick off the session.
See Dressel's 17.63 50 free Race Video (Courtesy of Anthony Preda)
Dressel 17.63 50 Free – POST RACE INTERVIEW
Day Three: Barely a year after the 44 second mark was broken in the 100 fly, Dressel broke the 43 second mark, winning the 100 fly  in a blistering time of 42.80.  The former NCAA Record stood at a 43.58 from the 2017 NCAA DI Championships, where Dressel upset Schooling for the title after Schooling had won the previous 2 years.
See the 42.8 100 yard fly race video (courtesy of Anthony Preda)
Day Four:  After a scorching 40.00 last season, Dressel set out to be the first man to break 40 seconds. Dressel exceeded expectations as usual, surging to an incredible 39.90 to win the final.
See the 39.90 100 yard Free Race Video (courtesy of ESPN)
2018 Male NCAA Swimmer of the Year
Caeleb Dressel had a senior year to remember with the Florida Gators, including 3 individual NCAA records and his first national relay title, as he takes home his second consecutive Swammy for NCAA Male Swimmer of the Year.
National/International Competition
2015 U.S. Nationals
In August of 2015 Dressel and a big squad of Florida swimmers travelled to San Antonio, Texas for the 2015 Phillips 66 Nationals. Switching it up a bit, Dressel's first race of the meet was in the 100-meter breaststroke, where he finished within the top 30. In the preliminary of the 50-meter free, Dressel smashed the 17-18 boys National Age Group Record by nearly half-a-second. The time also put Dressel as the sixth-fastest 50 free swimmer worldwide and the second-fastest American in 2015. In the finals Dressel lowered his record even further, this time dropping far below 22 seconds to touch first in 21.53 — the third fastest time in the world behind Florent Manaudou and Nathan Adrian.
After a dominant showing in the 50 free, Dressel came back the following day to take down another record. In the preliminary heats of the 100-meter free Dressel was just .01 seconds off of his NAG Record set in summer 2014. In the finals, Dressel took out his first 50 controlled, flipping in 3rd place behind Cullen Jones and BJ Hornikel, but he charged home with the second-fastest last 50 in the heat to win gold. He touched in 48.78, finishing ahead of Texas' Jack Conger by only .27 seconds. Dressel broke his own National Age Group Record, and his time ranked him as the second-fastest American in 2015 behind Nathan Adrian.
2016 U.S Olympic Trials
Dressel qualified to make his Olympic debut after finishing 2nd in the 100 meter freestyle, securing both an individual and relay swim at the games. He touched just 3 hundredths of a second ahead of Ryan Held who came in 3rd.
2016 Rio Olympics
Dressel secured his first Olympic gold medal in the 4×100 meter freestyle relay in Rio. He led off for Team USA, and went out like a rocket. He finished his leg just behind France to hand over the reins to Michael Phelps. Phelps moved in to first, stretching to a one second lead ahead of France. Ryan Held and Nathan Adrian maintained the lead and USA took gold in 3:09.92.
On the last day, Dressel was a member of the 4×100 medley relay that swam in the heats. Dressel took over for the freestyle leg, securing a second place seed for USA's A team in the final. Ryan Murphy, Cody Miller, Michael Phelps and Nathan Adrian went on to win the final, giving Dressel his second Olympic gold medal for his efforts in the prelims. Dressel also swam the individual 100 meter freestyle, finishing sixth in the final in 48.02.
2017 U.S. World Championship Trials
Dressel will have a stacked schedule in Budapest after qualifying for the World Championships in four individual events and both freestyle relays. At the trials, he took gold in the 50 meter freestyle and butterfly and the 100 meter butterfly. He completed his schedule with a silver in the 100 meter freestyle and a 6th place in the 200 meter freestyle. He finished as the top scorer of the meet.
Dressel wins 50m freestyle at 2017 U.S. World Championship Trials
Dressel wins 100m butterfly 2017 U.S. World Championship Trials
2017 FINA World Championships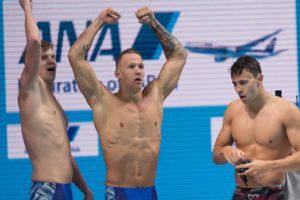 Dressel kicked off day one of the 2017 FINA World Championships with an American record in the semi of the 50m butterfly. Dressel tore past the American record of 22.91 previously held by Bryan Lundquist, set in 2009, by going 22.76.
Shortly after taking down the American record in the 50 fly, Dressel had a scorching leadoff leg for the Americans in the 400 freestyle relay. The former American record of 47.33 by Dave Walters in 2009 finally went down, as Dressel flipped in 22.2 en route to a record-breaking 47.26. Dressel's monstrous leadoff helped to Team USA to a gold medal in the 4×100 freestyle relay with a 3:10.06.
On day two, Dressel finished fourth in the 50 meter butterfly final in 22.89.
He picked up another relay gold medal on Day four when he combined with Matt Grevers, Lilly King and Simone Manuel in the 4×100 mixed medley relay. He had an incredible split of 49.92 to pull USA way ahead of the rest of the field. That split is almost a full second faster than his 100 meter butterfly best time. The team combined in a new World Record time of 3:38.56.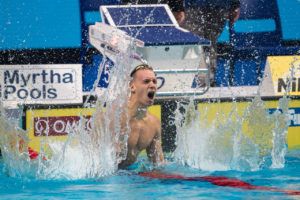 On day five Dressel lowered the American record to 47.17 in the final of the men's 100m freestyle en route to the gold medal. At the halfway mark he was already ahead and kept the rest of the field at bay until the end. His teammate Nathan Adrian finished in second 0.70 behind.
50m Freestyle American Record – Semi-Final: Day six of competition in the 50m freestyle semi-final,  Dressel continued his incredible run at World Championships. In his 3rd swim of the day, after a 21.6 50 free and 50.0 100 fly in the prelims, Dressel threw down a new American record of 21.29 to qualify 1st out of the splash 'n dash semis.
In the 50m Freestyle Final on day seven competition, Dressel lowered his own American record with a 21.15 to win the gold.
On day seven, Dressel followed the 50m free American record and gold medal swim with, perhaps, the most memorable performance of the meet. The 100m butterfly final was hyped as the rematch between Dressel and old high school teammate Joseph Schooling, the 2016 Olympic Champion in the event.  Earlier in the spring, Dressel clipped Schooling in the NCAA Championships 100 yard butterfly final. Schooling looked forward to a chance at redemption at Worlds in Budapest.  Dressel answered by winning the World Championship final in 49.86, a mere .04 off Michael Phelp's World Record (2009 World Championships in Rome in a #techsuit). Schooling tied for third with Britain's James Guy in a 50.83.
Later that night he added his sixth gold in the 4×100 meter mixed freestyle relay. He joined Nathan Adrian, Mallory Comerford and Simone Manuel to break the World Record in 3:19.60.
On the final night Dressel picked up his seventh gold medal of the World Championship meet to tie Michael Phelps for the most gold medals at a World Championships. It came when he joined Matt Grevers, Kevin Cordes and Nathan Adrian in the 4×100 meter medley relay. He split 49.76 to help Team USA combine in 3:27.91 to take the gold ahead of Great Britain and Russia.
2017 Year in Review SwimSwam Magazine Cover
After his breakout World Championships performance, Caeleb was featured on the cover of SwimSwam Magazine's year in review issue. Throughout the entire year, Dressel's individual races were at the top of the highlights, breaking NCAA records in yards and American records in meters. The cover shot, portraying the raw emotion of victory after Dressel's win in the 100m fly, was captured by Mike Lewis.
2018 Summer Preview SwimSwam Magazine Cover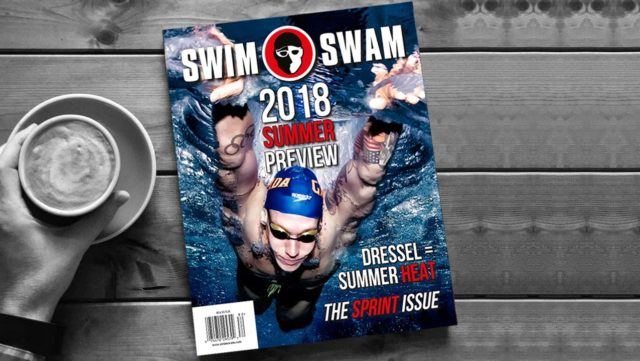 After his history making performance at 2018 Men's NCAA DI Swimming and Diving Championships,  Caeleb was featured on the cover of SwimSwam Magazine's 2018 Summer Preview issue — THE SPRINT ISSUE.   Many of the greatest sprinters of all-time are featured, with Caeleb taking center stage. The cover shot was captured at University of Florida's outdoor 50m pool immediately after the 2018  NCAA Championship by Mike Lewis.
Caeleb Dressel Signs with Speedo
After leaving the swimming community to wonder for nearly four months, swimming superstar Caeleb Dressel chose to sign a sponsorship deal with swimwear brand Speedo, announced on July 19, 2018.
"Signing with Speedo USA has been a surreal first step in my professional career. The support of Speedo USA and my new Team Speedo USA teammates is going to be incredibly important as I train to reach my goals. I look forward to joining the ranks of the incredible athletes who have worn Speedo when it's mattered most."
2018 U.S. National Championships
After a rocky start to nationals when he finished sixth in the 100 freestyle (48.50), more than a second slower than his American record of 47.17, Dressel came back and dominated the 100 butterfly (50.50). He was also runnerup in the 50 fly (22.97) and 50 freestyle (21.67) at the 2018 Phillips 66 Nationals in Irvine, California.
2018 Pan Pacific Championships
After Dressel swam in the 200 free prelims and did not advance to finals on day 1, he joined team USA for the mixed 400 medley relay, splitting 50.50 on the butterfly leg to aid in their bronze medal performance. On day 2, Dressel competed in the 100 free, and in the final tied for silver with Aussie Jack Cartwright at 48.22. On day 3, Dressel touched first in the 100 fly, earning gold in a time of 50.75, breaking Michael Phelps' pan pac record set in 2010. Later that night, Dressel led off the men's 4×100 free relay (48.76) that initially got 1st, but was ultimately disqualified for swimming in the wrong order. On day 4, Dressel earned a pair of medals, first touching 2nd in the 50 free in a time of 21.93. He finished off his pan pacs performance with a gold in the men's 4×100 medley relay, pulling fly duties once again with a split of 50.64.
2018 Short Course World Championships
Day 1 of SC Worlds saw Dressel notch his 1st American record in short course meters, leading off the 4×100 free relay in a time of 45.66 as the team went on to break the world record (3:03.03). On day 2, Dressel once again led team USA to a WR, this time leading off the 4×50 mixed free relay (20.43). That would have been a new AM in the 50m free had lead off legs of mixed relays counted toward records. On Day 3, Dressel took silver in the men's 100 fly behind reigning champ Chad le Clos. In the mixed 4×50 medley relay, this time Dressel anchored the Americans, diving in the pool in 7th place but splitting 20.09 to once again touch first and break a world record.
On day 4, Dressel once again earned individual silver, this time in the 50 free. He once again led off team USA in the men's 4×50 free relay, producing another American record (20.43, equaling his lead off split from the 4×50 mixed free relay) and aiding in another gold medal and world record performance. On day 5, he again teamed with USA for the men's 4×50 medley relay, this time swimming fly and aiding the US to silver behind Russia. On the final day of competition, Dressel earned his first individual gold of the meet in the 100 free, turning the tables on Morozov and winning the race by .04 (45.62 to 45.66). He ended the meet on fly duties for team USA again, this time aiding them to gold in the men's 4×100 medley relay.
2019 FINA World Championships
Dressel started off his World Champs by leading off the 4×100 free relay, splitting 47.63 to put the US in 1st, and they never looked back as the maintained the lead from start to finish.
On Day 2, Dressel swam the final of the 50 fly, breaking the championships and American record in a time of 22.35, the 2nd fastest performance all-time. Dressel came back on Day 4, swimming on the 4×100 mixed medley relay, splitting 49.33 to help Team USA get 2nd behind Australia by .02.
On Day 5, Dressel successfully defended his world title in the 100 free, touching at 46.96, just .12 ahead of silver medalist Kyle Chalmers, becoming the first American to ever break 47 seconds in the 100 free.
On Day 6, after qualifying as 1st seed through the 100 fly and 50 free, Dressel made a statement in the semi finals. In the 100 fly, Dressel was out in a blistering 22.83, coming home in 26.67 to smash Phelps' 100 fly world record with a time of 49.50.
On Day 7, Dressel started his day off by defending his world title in the 50 free, touching in a new American record of 21.04. 30 minutes later, Dressel was back in the water, successfully defending his 100 fly title in 49.66, just off his semi final world record. This makes Dressel 4-for-4 in individual titles. Dressel ended his night in the mixed 4×100 free relay, leading off for team USA and aiding their gold medal and world record finish of 3:19.40. This ties Dressel's record for 3 golds in single world champs finals session.
On the last day of competition, Dressel swam the butterfly leg of the men's 4×100 medley relay, splitting 49.28 for the fastest butterfly leg in history, and putting the men in 1st place at the 300. Duncan Scott split a massive 46.14 anchor to run the Americans down, but Dressel still earned a silver, making his 8 total medals the most won at a single world championships.
2019 ISL Season
In the first season of the International Swimming League, Caeleb Dressel was a member of the Cali Condors, who's general manager was Jason Lezak. Dressel missed the first ISL meet for the Condors (and first ISL meet in history) but after that was a major factor in competition. Dressel went undefeated in league competition, including 3-straight Skins races culminating at the ISL Finale in Las Vegas.
At the Finale, Dressel started the meet by breaking the world record in the 50 freestyle (20.24) while racing the current holder, Florent Manaudou. Dressel went on to set US Open records the next day in the 50 fly (22.06) and 100 free (45.22).
2019 Swammy Awards
For his performances throughout the year and specifically at the 2019 World Champs, Caeleb Dressel won the Swammy awards for US male swimmer of the year and Male swimmer of the year.
Caeleb Dressel's Ink
Caeleb Dressel has become infamous for his expansive and colorful portfolio of tattoos, which he has been adding to and changing since 2015.
2015
We saw Dressel at the 2015 Men's NCAA Championships, finishing up his freshman season as a gator. On his way to winning the 50 as a rookie, Dressel sported an eagle that stretched across his left shoulder and onto his chest. Dressel said it was representative of one of his favorite bible verses, Isaiah 40:31.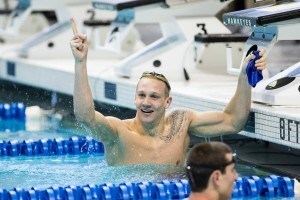 2016
Early in 2016 at the SEC Championships, we saw that Dressel had added an American flag to his eagle, spanning the front of his left shoulder and upper arm.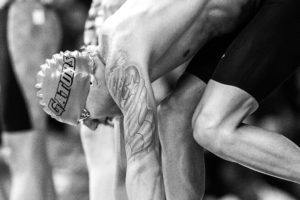 Dressel gives commentary on the ink below at the 2016 SEC Championships:
After garnering 2 gold medals from the 400 free and medley relays at the Olympics, Dressel got the rings tattooed onto his right forearm in September of 2016.
In December of 2016, Dressel added a gator that covered his entire left forearm, representative of his Florida Gators.
2017
In 2017, Dressel began the process of fading out his eagle and American flag, claiming that he wanted the images to be all by the same artist.
2018
By the beginning of had replaced the American flag on his left arm with a bear, again sprawling across the entirety of his upper arm.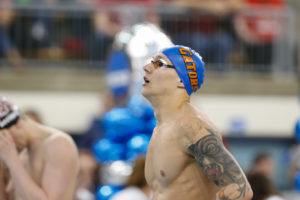 Hear what Dressel had to say at the 2018 SEC Championships about that addition below:
Dressel stayed true to his word, and replaced his eagle after the 2018 NCAA Championships.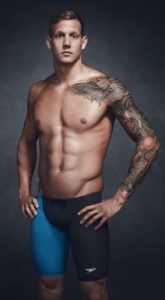 Dressel talked SwimSwam through the final additions of his long-in-the-works sleeve at the 2018 Atlanta Classic: