Courtesy of FINIS, a SwimSwam partner
FINIS, a worldwide leader in technical swimming products announces the release of the Glide Snorkel. The Glide is a new take on the Original Swimmer's Snorkel, first released by FINIS over 15 years ago. Since then, FINIS has also developed the Freestyle Snorkel, the Swimmer's Snorkel Jr., and the Youth Swimmer's Snorkel. The Glide's fresh look stems from a simplified construction process that delivers an overall sleeker and lighter snorkel to the FINIS product family. Available in four fun, bright colors the Glide is an ideal training tool for teams and fitness swimmers.
TECHNICAL INFORMATION
• Center-Mount Design: Be comfortable in the water, breathe easily, and swim with perfect balance
• Hydrodynamic Tube: Curves around head to reduce drag and promote proper body position
• V02 Max: Increases aerobic capacity
• Adjustable Head Bracket: Makes for quick strap adjustment and a universal fit
• All 4 Swim Strokes: Stays in place for all competitive strokes, including flip turns
• Multiple Colors: Available in Mint Green, Ocean Blue, Watermelon Pink, and Sunset Orange.
Replacement head brackets available in all colors.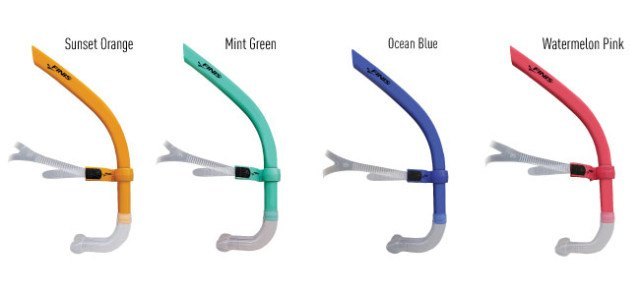 About FINIS:
Founded in 1993 in Northern California, FINIS was started by John Mix and Olympic Gold Medal Swimmer Pablo Morales. The Monofin and the Swimmer's Snorkel were the first products they developed for the US market; afterwards, they continued to focus on creating training tools for swimmers and coaches worldwide. FINIS products are currently available in over 65 countries and are used by US and International Olympic teams, elite triathletes, and fitness swimmers.
Innovative research and design is FINIS' highest priority. This dedication has resulted in truly unique products such as: the Swimmer's Snorkel, which is recognized as the paramount tool to improve a swimmer's technique, the Neptune MP3 that uses bone conduction technology to transmit music to the inner ear instead of using ear buds, and the Z2 Zoomers fins, which demonstrate an intimate understanding of swimming musculature, hydrodynamics, and engineering.