No one said we can't have fun while working hard!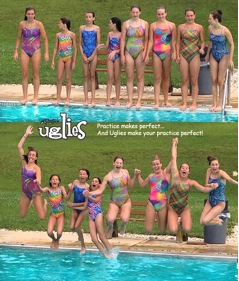 Year after year, season after season, swimmers across the country continue to get excited about Dolfin Uglies and they cannot wait to get their hands on the new prints.  No matter what age or level swimmer you might be, the Uglies are designed to make your practice a little more fun and put smiles on swimmers faces.  We at Dolfin get just as excited about introducing the latest and greatest Uglies and in gearing up for the release of 6 new prints, we decided to stop in on a morning practice in Adamstown, PA.  Here is what the swimmers had to say…
"Why do you Love Dolfin Uglies?!"
— "They always have bright colors that stand out from the crowd…which is what I am looking for when shopping for a new suit!"
— "I love Dolfin Uglies because they are different and fun and they last a long time!"
— "I really like getting new Dolfin Uglies and wearing them to swim practice…it is fun to have matching suits with my friends or show up with a new design that no one has!"
— "Dolfin Uglies are comfy, fun to wear, and have cool designs!"
Available July 2013!                            
Don't forget about the Dolfin Uglies 2 piece training bikini as well.  It is a great suit for summer swimming…take it from Kristy Kowal (Olympic Silver Medalist).
"The dolfin bikini was by far the most comfortable training bikini I have ever worn! I wore it in both a 1 mile and 5k open water swim and never once did I have to readjust the suit- it stayed in place perfectly- I LOVE these suits! " – Kristy Kowal


Dolfin swimwear is a swimswam partner.