Dolfin Swimwear, the fastest growing swimwear company in the country, is proud to announce the addition of Emma Reaney to its ranks of elite swimmers. Reaney graduated from the University of Notre Dame in 2015 as the most decorated swimmer to ever compete at the school, including both male and female swimmers, and one of the most decorated student-athletes across all sports in school history.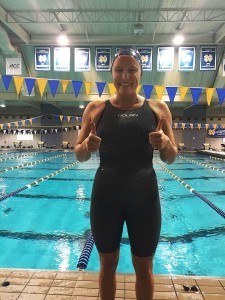 Growing up in Lawrence, Kansas, Reaney attended Lawrence High School, where she only swam during her sophomore year.  But what a year it was!  While she has always been a natural breaststroker, Reaney excelled in every stroke – she broke five school records in the 100 butterfly, 100 breaststroke, 100 backstroke, 100 freestyle, and 200 IM.  During her high school years, she also swam for – and was a team caption of – the club team at Ad Astra Area Aquatics.
She continued making a name for herself during her four years at Notre Dame.  Not only was Reaney the first Fighting Irish men's or women's swimmer or diver to win a national title, she was also the first student-athlete in the school's history to hold an American record.  Among many other accomplishments, Reaney completed her college career with eight All-America and five honorable mention All-America scrolls, as well as 14 conference titles (10 Big East & 4 ACC) and 19 all-conference scrolls (14 Big East & 5 ACC).  Outside the pool, she graduated from the College of Arts and Letters with a degree in design, a minor in business economics, and a concentration in visual communications – with an impressive GPA that twice earned her recognition on Notre Dame's Dean's List, the ACC's All-Academic Team, and the ACC Academic Honor Roll.
Now, she continues to train with Mike Litzinger at Notre Dame in hopes of making it to Rio, and she's taking Dolfin on her journey.
"I'm thrilled to become a member of the Dolfin family.  Everyone is so welcoming, understanding, and accommodating – my experience has been great so far," said Reaney.  "I decided to partner with Dolfin for two main reasons: 1) the extensive research and cutting edge technology that goes into their apparel is amazing, and 2) the confidence that the Dolfin team has in their products is incredible! I can't wait to see what the next year will bring for our partnership!"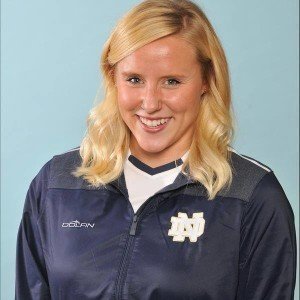 Dolfin is equally excited to see what the future holds for their newly-signed athlete.  Matt Zimmer, Dolfin's VP Sales & Marketing commented, "Four years ago, Emma had a great performance at the Olympic Trials.  She spent the next four years excelling at Notre Dame both in and out of the pool, as a swimmer and as a student.  We're humbled that Emma has as much confidence in us as we have in her. We're staying tuned for big things to come!"
Dolfin has been one of the leading swimwear brands for more than 70 years. It is recognized for offering the best value in the industry with the highest standards of innovation and quality. Founded and operated in Pennsylvania, Dolfin continues to provide its customers with the best quality swimwear at the most competitive prices in the industry. From product development and design to presentation and delivery, Dolfin is committed to customer satisfaction and to our goal of becoming America's most popular brand of performance swimwear. For more information on Dolfin, please visit www.dolfinswimwear.com.
Swimming News is courtesy of Dolfin, a SwimSwam partner.