Disclaimer: BlueSeventy Swim of the Week is not meant to be a conclusive selection of the best overall swim of the week, but rather one Featured Swim to be explored in deeper detail. The BlueSeventy Swim is an opportunity to take a closer look at the context of one of the many fast swims this week, perhaps a swim that slipped through the cracks as others grabbed the headlines, or a race we didn't get to examine as closely in the flood of weekly meets.
It was only a few years ago that 1:50 in the 200 yard breaststroke was a barrier not even approached. Prior to 2012, no man had ever broken 1:51, much less 1:50. But since Kevin Cordes first smashed under the 1:50-barrier in 2013, it's been as if the floodgates have been burst within the stroke.
The latest swimmer to slide under the barrier is Cody Miller, who did so at last weekend's American Energy Club Pro Am in Edmond, Oklahoma. Miller went 1:49.74.
He now joins Cordes and 2015 NCAA champ Will Licon as the only men to break the barrier. Earlier in the weekend, Miller also became just the fourth man under 51 seconds in the 100, joining Cordes, Damir Dugonjic and Chuck Katis.
What bodes well for Miller's 2016 year was how smooth the race looked, but mostly how great he was on and off the walls. The race video (which you can see here) is a testament to great breaststroke turns – a huge factor in a race that features 7 of them.
Though turns are less important in long course swimming, they are still an often-overlooked detail that can win or lose a tight race. And with the race for breaststroke slots on the U.S. Olympic Team next summer starting to tighten up, all every swimmer can ask for is to show excellence in those small, race-saving details.
Aptly named to suggest 70% of the earth is covered in water, blueseventy is the world leader in the pool, triathlon and open water wetsuits and swimskins. Since 1993, we design, test, refine and craft products using superior materials and revolutionary details that equate to comfort, freedom from restriction and ultimately a competitive advantage in the water. blueseventy products have instilled confidence in beginners as well as carried world-class athletes to countless Olympic and World victories.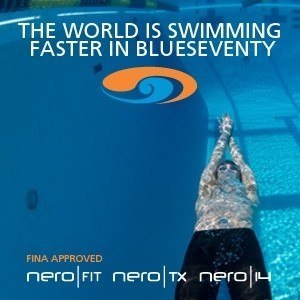 For the latest news and blogs from blueseventy visit www.blueseventy.com.
Twitter: @blueseventy 
Facebook: facebook.com/blueseventy
 Blueseventy is a SwimSwam partner.