2016 MEN'S NCAA CHAMPIONSHIPS
The individual lineups for the 800 free relays have dropped at the 2016 men's NCAA Championships, with most of the expected names on the list, including Texas duo Joseph Schooling and Jack Conger.
Neither Schooling nor Conger swam this event last year, when Texas finished 8th, but it seemed very likely both would join the lineup this year. Schooling has only entered two individual events, meaning he's eligible for all 5 relays, and Conger led off this relay at Big 12s.
Conger will lead off again at NCAAs, joining Townley Haas, Clark Smith and Schooling, with Schooling serving as the anchor leg.
Perhaps their biggest competition in the event is NC State, which didn't swap out any swimmers, but did shift around its relay order. At ACCs, the Wolfpack led off with sophomore Ryan Held and put senior Simonas Bilis second. They'll flip-flop those two tonight, with Bilis leading off and Held swimming second. Justin Ress and Soeren Dahl remain stable in their third and fourth spots, respectively.
You can see the full heat sheets in this photo: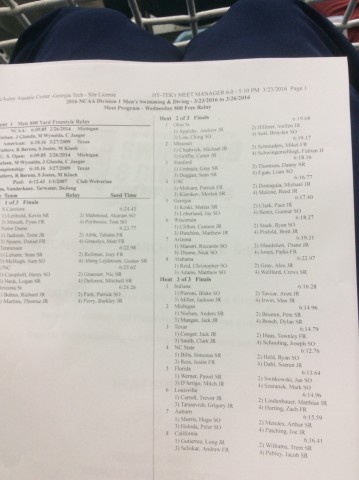 A few other notable lineup shuffles:
Louisville appears to have swapped out its anchor leg, going with freshman Zach Harting instead of sophomore Jonathan Zoucha, who swam the event last year as a freshman. Unless it's a misprint, that seems an odd move for Louisville, with Harting being more of a butterflyer/IMer with a lifetime-best of 1:39.8 in the 200 free.
Michigan will swim Peter Brumm instead of freshman Mokhtar Al-Yamani, who was a part of the Big Ten Championship-winning relay. That move was widely expected. Al-Yamani had a breakout meet at Michigan's First Chance meet, but Brumm went 1:33.6 at Big Tens individually, beating Al-Yamani's best by a full second.
Cal will feature Jacob Pebley on this relay and not Ryan Murphy, who swam on the team's best relay of the year at the Georgia Invite. Murphy is probably more valuable on the other four relays for the Golden Bears. Long Gutierrez, Trent Williams and Andrew Seliskar will remain on the other three legs.
Missouri has one of the more interesting legs: breaststroker Fabian Schwingenschlogl will anchor the team's 800 free relay. His lifetime-best in the 200 free is just 1:39.88, according to USA Swimming's database, but that time is from back in 2014. He'll probably be faster, based on his 20.2/44.1 times in the 50 and 100 somewhat more recently.