Joan Lluís Pons se lleva el Swammy al mejor nadador español de 2018 gracias a su medalla en el europeo de Glasgow. Hugo González y César Castro, menciones de honor.

Last Friday, SwimSwam published our Swammy Awards Top 10 Swims of the Year. The number one race was the men's medley relay at the Asian Games.

This month, we're recounting the top performers and performances of the year 2018. Keep track of all of our Swammy Award winners here, with links out to full Swammy Award stories and honorable mentions.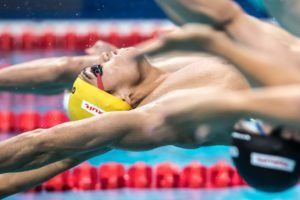 As we wrap up our 2018 Swammy Awards, it's time to look back at the top 10 swims of 2018.
More 2018 Swammy Awards


15
It was a true firework of a year for Russia's Kliment Kolesnikov, who wraps up Swammy Awards season with not only the World Junior Swimmer of the Year and European Swimmer of the Year awards, but the overall World Male Swimmer of the Year honor as well.
Often a victim of sky-high expectations set by her historic track record, Ledecky had arguably her quietest year since bursting onto the international scene in 2012, and she's still the world's top female swimmer.
From the pool to open water, Erica Sullivan had a stellar season in the 17-18 age group.

1
Meet our 2018 Swammy Award winners for Europe's Coaches of the Year.

1
Not only did Italy break a lot of National Records in 2018, but Italian swimmers posted times to put the rest of the world on watch. Who's ready for some great showdowns in 2019?

11
Regan Smith and Gianluca Urlando (pictured) top our list of 15-16s for 2018.
 "Coach Ben is just so amazing and got me to where I am. I'm so grateful for him," says Taylor Ruck of our 2018 Swammy Award winner for Canadian Coach of the Year, Ben Titley.

Jessica Vall se lleva el premio Swammy a la mejor nadadora española 2018 después de un gran año. Lidón Muñoz, Marina García y Catalina Corró también destacan y se llevan las menciones de honor.