The final meet of the 2022 FINA World Cup Circuit kicks off Thursday, November 3rd in Indianapolis. One of the new additions to the competition this year is that if a swimmers wins an event at all three stops, they receive a $10,000 bonus at the end of the last meet.
There are still 11 athletes in with a fighting shot to earn a Triple Crown. Let's take a look at who they are–and who might stand in their way.
Dylan Carter: 50 Back, 50 Fly, 50 Free
The 26-year-old Carter is one of three swimmers who has three shots at a Triple Crown in Indianapolis. Through the World Cup circuit, Carter has been dominant in three of the four 50s, taking wins the 50 back, 50 fly, and 50 free in Berlin and Toronto. He's set Trinidad and Tobago national records in both the 50 free and 50 back (and the 100 free). In Toronto, his smallest margin of victory was in the 50 back, where he out-touched Kacper Stokowski by .07 seconds. He won the 50 free and 50 fly by .16 and .17 seconds respectively, which could point to those being his best chances at a sweep.
Potential Challengers: Stokowski (50 back), Michael Andrew (50 back, 50 fly), Kyle Chalmers (50 free)
Given that Stokowski was so close to Carter in the 50 back, it's almost a given that he'll be a threat once again in Indianapolis. With sprint specialist Michael Andrew entering the ring, he's the newcomer who's the biggest new obstacle that stands in the way of Carter's triple crown.
Shaine Casas was one of the stars in Toronto–he never trailed during any of his finals swims and he set World Cup records in the 100 back and 200 IM. It's the two backstroke events where he'll take his shot at a Triple Crown and based on how he looked last weekend, he's got a good chance in both events. That said, there's some new additions to the field that could severely impede his chances.
Potential Challengers: Ryan Murphy, Javier Acevedo, Daniel Diehl 
Javier Acevedo raced the other two stops, and looked great in both. In Berlin, he set two Canadian records and in Toronto, he stayed with Casas for the majority of the 200. He'll need to find an extra gear for the final 50 though, if he wants to unseat the American. In terms of new additions, the biggest name is Olympian Ryan Murphy. Murphy's been the US' go-to LCM backstroker for years now, and he'll give Casas a good race. Daniel Diehl is a bit of a dark horse here, but he broke Murphy's 15-16 SCY 100 back NAG earlier this year and had a strong summer. And the meet's inside, which is a huge plus for him.
The Aussie sprint star is eyeing his Triple Crown in the 100 freestyle. He's the world record holder in this event, which he set at 44.84 at last year's World Cup. He hasn't been at that speed this year: he's won in 45.88 and 45.52. It doesn't seem like it will matter too much though; he's won by half a second or more both times.
Potential Challengers: Thomas Ceccon
Out of our 11 candidates, Chalmers might have the easiest path to the Triple Crown. The most likely candidate to upset him is Thomas Ceccon. As the LCM 100 back world record holder, Ceccon is more known for his backstroke skill, but he's shown he's capable of sprinting fly, free, or back. He's also been a key part of Italy's 4×100 free relay team, including when they won silver in Tokyo. It's a long shot for him to beat Chalmers, but if the Aussie's having an off day, it could happen.
Nic Fink: 50 Breast, 100 Breast, 200 Breast
As you can see, Nic Fink has dominated the breaststroke events–no one else has won one during this World Cup. That gives Fink three opportunities to complete a sweep, though he'll undoubtedly want to go for all three.
Potential Challengers: Nicolo Martinenghi (50/100 breast), Caio Pumputis (200 breast)
He and Nicolo Martinenghi have faced off multiple times now. At Worlds, Fink got the better of him in the 50 while Martinenghi took the 100. In Berlin, Fink beat him both times but Martinenghi has proven himself capable of out-touching the American. One of the only times Fink has looked vulnerable during the World Cup was in the Toronto 200 breast, where he came from behind to beat Caspar Corbeau and Caio Pumputis. Corbeau won't be in Indy, but Pumputis will be, and he's sure to be ready for the rematch.
By her own admission, Beryl Gastaldello has had some trouble managing the walls in short course meters. However, she's still managed to win the 100 IM in both Berlin and Toronto. Last weekend, she was fourth at the halfway mark, but powered home on the back half to earn the win. She clocked 57.97, pipping Beata Nelson at the wall by .09 seconds.
Potential Challengers: Beata Nelson, Louise Hansson
It's Nelson who will be her biggest challenge in Indianapolis. They've faced each other in the 100 IM twice and while Gastaldello has won both times, it's only by a combined .15 seconds. Watch for another close race–the third time might be the charm for Nelson.
Louise Hansson has also been in the mix in this race. She was leading at the halfway mark in Toronto, though she wound up fourth. She doesn't have quite the back half needed to contend with Gastaldello and Nelson, but she could surprise.
Siobhan Haughey's summer was plagued by injury, but she's rebounded well at the start of the short course season. She won three events in Berlin and another two in Toronto. She'll have two shots at earning the $10,000 bonus, first in the 200 free and then in the 100. She was faster in Toronto than she was in Berlin in both those events. In the 100, she dropped from 51.59 to 51.33, and from 1:51.36 to 1:51.13 in the 200. It's a positive sign for her that she's improved throughout the rounds, and points to her going even faster this weekend.
Notably, in the 200, she's been right on her world record pace until the final 50. Will she have swum into her season enough to be able to keep on her pace the final 50?
Potential Challengers: Katie Ledecky, Madi Wilson
Her biggest challenger in the 200 free will be Katie Ledecky, who finished second to her about ten minutes after breaking the 1500 freestyle world record. Without that swim beforehand, Ledecky will be a serious threat to Haughey in the 200. Also lurking is Madi Wilson, who finished third in the 200 free and fourth in the 100 in Toronto.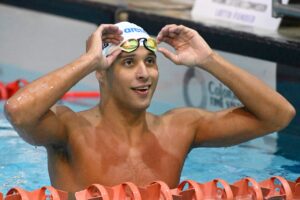 We've been treated to a new version of Chad Le Clos during the World Cup. He's put up some sizzling swims in the fly events, and has promised to be a threat in 2024. It's big talk, but he's backed it up so far. He'll have his hands full in the 100 fly in Toronto though, as there's an influx of challengers showing up for the final meet.
Potential Challengers: Tom Shields, Matt Temple, Youssef Ramadan, Luca Urlando 
Chief among them is Tom Shields, who's got a long history of being successful in short course meters and has shown at previous World Cups he's capable of beating Le Clos. There's also some NCAA stars entering the ring who are capable of shaking things up. It largely depends what point they're at in their training, but two of those potential upsets are Luca Urlando and Youssef Ramadan. They finished second and third at NCAAs last year, and both now have experience on the international stage. Urlando has actually already raced an SCM meet this season at Georgia's dual with Georgia Tech, which could prove valuable.
Ruta Meilutyte has been on fire since returning to swimming about ten months ago. She came away from Worlds and European Championships with a gold and a bronze at each and now, she's got a shot not only at two Triple Crowns, but a world record. In Berlin, she ripped 28.60 in the 50 breast for a new European record thats only .04 seconds off the world record. She couldn't get closer in Toronto, but she has another shot this weekend.
Potential Challengers: Lilly King 
The biggest obstacle standing in her way is Lilly King, who'll have home field advantage in Indianapolis. Nevertheless, Meilutyte got the better of King in both events in Toronto, though King did push her in the closing meters of the 50 breast. Being back in a familiar pool with no doubt give King extra energy, so Meilutyte will need to find some as well if she wants to get her hands on the wall first.
Beata Nelson: 100 Back, 200 Back, 200 IM
A short course meters superstar, Beata Nelson has been tearing up the World Cup circuit this year. She's the third swimmer with three chances to earn a Triple Crown, and the only woman. She's successfully fended off Kylie Masse and Ingrid Wilm in the backstrokes, and challenged the 200 world record in Toronto. She also posted a lifetime best in the 200 IM, overtaking Pickrem on the freestyle leg to win in 2:05.08
Potential Challengers: Back: Kylie Masse, Ingrid Wilm, IM: Leah Hayes, Sydney Pickrem
Masse and Wilm have been 2-3 behind Nelson in the 100 through the whole circuit, and get one final shot at knocking Nelson off the top of the podium. Last weekend, Nelson finished two seconds ahead of Masse in the 200, so her best chance is likely the 100. In the IM, Nelson will go head-to-head Pickrem again. She'll also face Leah Hayes, the Worlds silver medalist and (brief) world junior record holder in the event.
Matt Sates, the overall winner in 2021, seemed back in control at the first meet in Berlin after a disappointing summer. There he won four events, and looked like he would be tough to beat. The tide turned a bit in Toronto, where he came away with wins only in the 400 free and 400 IM. In the 400 free, he clocked 4:37.52, a second slower than Berlin, while he shaved off about three-tenths in the IM. Alberto Razzetti, who finished second to Sates in the 400 IM in both Berlin and Toronto, won't be in Indianapolis, which probably makes the 400 IM his best chance at a Triple Crown.
Potential Challengers: Kieran Smith, Danas Rapsys, Jake Magahey, Ahmed Hafnaoui, Duncan Scott, Hubert Kos
That's partly because the 400 free is starting to get very crowded. You've got Kieran Smith and Danas Rapsys who have finished on the podium with Sates at both stops. Smith has been inching closer to Sates–if he can get out far enough ahead of the South African, he could grab the win. Now, Sates' former training partner Jake Magahey will be in the mix. There's also Ahmed Hafnaoui, and it will be interesting to see what the Olympic gold medalist brings to the short course pool after not being able to compete for Indiana this year.
Then there's Duncan Scott, who's exceptionally versatile and is capable of competing with Sates in both of these races. Scott had his summer training derailed due to COVID, so like Hafnaoui, there's intrigue around what kind of times he'll post. He's entered in four of the same races as Sates, so we could see them battling it out a lot this weekend.
Kasia Wasick has looked great at the World Cup, and there's no reason to think that won't continue in Indianapolis. In Toronto, she won the 50 free by almost half a second, posting 23.27 and resetting her own Polish national record. She had a strong summer and she lowered the Polish record in long course meters as well. She's kept finding ways to get faster this year, and she looks capable of doing that once again in Indianapolis.
Potential Challengers: Abbey Weitzeil, Meg Harris
Wasick seems to have a strong grip on the 50, but if anyone's going to upset her, Abbey Weitzel and Meg Harris are our picks. Weitzeil had a disappointing summer as she failed to qualify for the Worlds Team so she'll be eager to make noise again on the international scene. Harris picked up bronze in the 50 at Worlds and silver at Commonwealth Games, so she can't be counted out either.