The Early Years
Sydney Pickrem was born and raised in Florida but has dual citizenship with Canada. She was born on May 21, 1997 to Darren Pickrem, a former hockey player, and Elizabeth Pickrem.
College – Texas A&M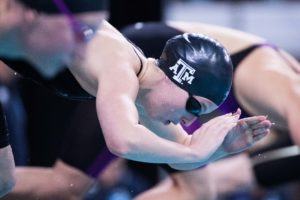 2015-2016
At the 2016 NCAA Championships, Pickrem placed fourth in the 400 IM and seventh in the 200 IM. She also helped the Aggies' fourth place 4X200 Free Relay.
2016-2017
At the 2017 NCAA Championships, Pickrem placed fourth in the 200 IM missing the podium by less than a second. In the 400 IM, Pickrem finished second behind Ella Eastin. Pickrem also picked up another fourth place finish in the 200 Breaststroke, just .03 seconds behind third place finisher, Emily Escobedo of UMBC.
2017-2018
In 2018, Pickrem was more primed for success than ever, and it showed. She placed 3rd in both IM's and the 200 breast, going life time bests of 1:52.35, 3:59.05, and 2:05.79 in all 3. She was the top scorer of the meet for the Aggies, who placed 3rd overall.
2018-2019
Pickrem saved her best performance for last, once again swimming lifetime bests in all 3 individual events. She once again touched 3rd in the 200 IM (1:52.75), but this year placed 2nd in the 400 IM (3:58.23) and 2nd in the 200 breast (2:03.65).
2015 Canadian Trials/Pan American Games
Pickrem won both the 200M and 400M IM, and reached the Podium in both at the Pan Am Games, earning a silver medal in the 400M IM and a bronze in the 200M IM.
2016 Rio Olympics
Pickrem represented Canada at the Olympics, placing sixth in the 200M Individual Medley and 12th in the 400M Individual Medley.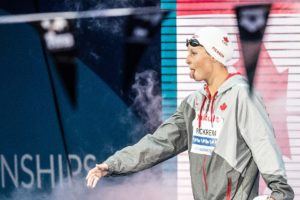 2017 FINA World Championships
In the final of the 400m IM, Pickrem won bronze in 4:32.88.  Katinka Hosszu of Hungary won the gold in 4:29.33.  Spain's Mireia Belmonte picked up the silver in 4:32.17.
2018 Pan Pacific Championships
After scratching the 400 IM, Pickrem came out blazing in the 200 IM, ultimately touching at 2nd in a new personal best of 2:09.07.
2019 FINA World Championships
After choking on water and exiting the pool in the 200 IM in 2017 Worlds, Pickrem got redemption by winning a bronze in the event in Gwangju, clocking a near personal best of 2:08.70.
Pickrem picked up her 2nd medal in the 200 breast, her 1st major international medal in that event, touching for 3rd in a time of 2:22.90. This made Pickrem the 1st Canadian woman ever to win 3 individual medals at the LC world championships.
Pickrem added to her hardware on the last day of competition, swimming the breaststroke leg (1:06.42) of Canada's 4×100 medley relay, helping them touch for 3rd place and earning a bronze medal.