Courtesy of  AQUA BOOM®, a SwimSwam partner
Are you looking for a new way to slim down, get healthy and feel better without causing tons of stress to your joints or aggravating conditions like osteoporosis or arthritis? Then you should find out more about the benefits of adding a water-based workout to your overall fitness program.
Water-based fitness programs are often associated with water aerobics which consists of a variety of different types of exercises similar to aerobic workouts which you may already know from your local health club. While water aerobics are a fantastic way to help to build your cardiovascular stamina, increase your body's flexibility, lose weight and increase circulation, it is not an effective choice when it comes to building muscles.
Another of the more popular water-based exercises is deep-water running. Deep-running, which is often called aqua-jogging, is a much more intense workout than water aerobics. The equipment is simple and only requires a flotation belt and a pool deep enough to allow you to move your legs without touching the bottom. Deep-water running allows people to get in a vigorous, heart-strengthening workout without causing pain to their knees or other joints.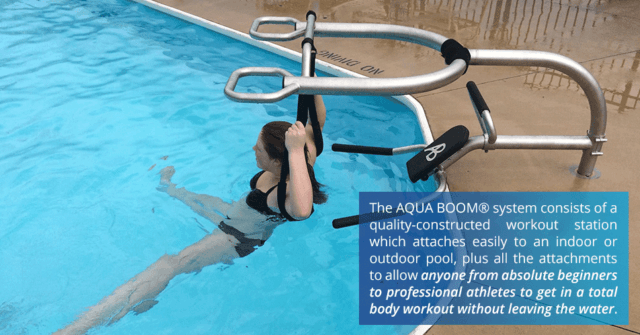 While it is true that doing aerobic exercises or running in the water offers more resistance to the workout than on land, the intensity is never going to be enough to build real strength. In the past, if your goal was to get stronger, your only option was to get out of the pool and participate in a traditional workout program which can cause pain or injury. Today, you can have all the benefits of a water-based workout while having the opportunity to build real muscle mass with the AQUA BOOM from ISO-Aquatics.
AQUA BOOM is a revolutionary, one-of-a-kind piece of workout equipment which combines the low-impact benefits of exercising in the water with the muscle strengthening power of a bodyweight workout. When you combine the AQUA BOOM with the ISO-Aquatics exercise program, you have one of the most effective, yet safe workout programs on the planet.
The AQUA BOOM system consists of a quality-constructed workout station which attaches easily to an indoor or outdoor pool, plus all the attachments to allow anyone from absolute beginners to professional athletes to get in a total body workout without leaving the water.
AQUA BOOM comes in your choice of sturdy aluminum or stainless steel frames and can support up to 1000 lbs. You can find out more about the health benefits of using AQUA BOOM by calling 614-698-2799 or visiting our website. Don't let an old injury prevent you from staying fit, get an AQUA BOOM today.
WANT TO GET STARTED WITH AQUA BOOM TODAY?
Gear and Industry Swimming News is courtesy of ISO Aquatics/AquaBoom, a SwimSwam Partner.